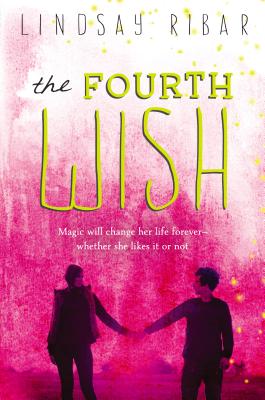 The Fourth Wish
The Art of Wishing: Book 2
Hardcover

* Individual store prices may vary.
Other Editions of This Title:
Paperback (7/7/2015)
Description
"Genies for the modern age, with passion, darkness, and heart. I loved it!"--Tamora Pierce, author of Mastiff (praise for The Art of Wishing)

Here's what Margo McKenna knows about genies: She's seen Aladdin more times than she can count; she's found a magic genie ring and made her three allotted wishes; she's even fallen head over heels in love with Oliver, the cute genie whose life she saved by fighting off another genie. But none of this prepared her for the shock of becoming a genie herself.

Everything Margo's taken for granted--graduating high school, going to college, hating math, performing in the school musical, even being a girl--is in question. Just at a time when she's trying to figure out who she wants to be, Margo is forced to become whomever her master wants. But Margo is also coming into a power she never imagined she'd have. How will she reconcile the two? And where will she and Oliver stand when she's done?

Fans of Every Day and Anna and the French Kiss will love this romantic, magical, and surprising conclusion to The Art of Wishing.
Praise For The Fourth Wish: The Art of Wishing: Book 2…
"Ribar deals with surprisingly heavy themes in this sequel, despite the lighter-than-air premise, including the pressure to conform, the construction of self and the ever-evolving nuance of what is the "right" thing. Despite its fantastic drapery, the truths this novel reveals are so real it may even make readers a bit uncomfortable--that's quite an achievement." — Kirkus Reviews

"Ribar has delivered fans a fun romantic read with some deliciously exciting paranormal elements (shape-shifting anyone?) while casually tackling bisexuality, consent, and the importance of balancing power with humanity." — School Library Journal

PRAISE FOR THE ART OF WISHING:
"Stands head and shoulders above the competition because of its main character Margo . . . a decisive, strong-willed heroine."--Tor.com

"For anyone who thought Disney's Aladdin was the last word on genies, think again."--Booklist

"[With] a genie like no other . . . this lighthearted book is a well-rounded combination of humor, romance and paranormal suspense, with likable characters and easy-to-believe dialogue."--Kirkus

"The love between a musician and her genie is so bittersweet, so utterly human, it makes magic feel real--a feat all paranormal romances attempt, but few achieve."--Jeri Smith-Ready, author of Shine

"Rich with romance, magic, and action, this novel will captivate teens."--School Library Journal
Kathy Dawson Books, 9780803738287, 368pp.
Publication Date: July 31, 2014
About the Author
Lindsay Ribar lives in New York City, where she works in book publishing by day and writes YA novels by night. She is the author of The Art of Wishing, The Fourth Wish, and Rocks Fall, Everyone Dies, as well as The Pros of Cons (co-written with Alison Cherry and Michelle Schusterman). Lindsay attends far too many concerts, watches far too much nerdy TV, and consumes fanfiction like it's made out of chocolate. She is fond of wine, cheese, and really cool accents. Ask her about her Harry Potter tattoo.
or
Not Currently Available for Direct Purchase