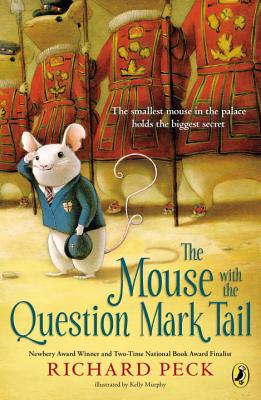 The Mouse with the Question Mark Tail (Hardcover)
Dial Books, 9780803738386, 240pp.
Publication Date: July 2, 2013
Description
Newbery Award-winning author Richard Peck is at his very best in this fast-paced mystery adventure. Fans of The Tale of Desperaux, A Little Princess, and Stuart Little will all be captivated by this memorable story of a lovable orphan mouse on an amazing quest. The smallest mouse in London's Royal Mews is such a little mystery that he hasn't even a name. And who were his parents? His Aunt Marigold, Head Needlemouse, sews him a uniform and sends him off to be educated at the Royal Mews Mouse Academy. There he's called "Mouse Minor" (though it's not quite a name), and he doesn't make a success of school. Soon he's running for his life, looking high and low through the grand precincts of Buckingham Palace to find out who he is and who he might become. Queen Victoria ought to be able to help him, if she can communicate with mice. She is all-seeing, after all, and her powers are unexplainable. But from her, Mouse Minor learns only that you do not get all your answers from the first asking. And so his voyage of self-discovery takes him onward, to strange and wonderful places.
About the Author
Richard Peck has written more than thirty novels, and in the process has become one of the country's most highly respected writers for children. In fact The Washington Post called him "America's best living author for young adults." A versatile writer, he is beloved by middle-graders as well as young adults for his historical and contemporary comedies and coming-of-age novels. He lives in New York City, and spends a great deal of time traveling around the country to speaking engagements at conferences, schools, and libraries. Mr. Peck is the first children's book author to have received a National Humanities Medal. He is a Newbery Medal winner (for A Year Down Yonder), a Newbery Honor winner (for A Long Way from Chicago), a two-time National Book Award finalist, and a two-time Edgar Award winner. In addition, he has won a number of major honors for the body of his work, including the Margaret A. Edwards Award, the ALAN Award, and the Medallion from the University of Southern Mississippi.
Praise For The Mouse with the Question Mark Tail…
"You can't help but make comparisons to some other very famous books about mice, namely DiCamillo's The Tale of Despereaux (2003) and White's Stuart Little, but the parallel world of mice and humans also echoes The Borrowers. Peck (A Year Down Yonder, 2000) is terrific in relaying small details, like the intricacy of mouse uniforms, and this clever yarn should delight fans of animal adventure stories. (Starred Review)
-Booklist

"The small hero's brushes with danger and run-ins with royalty (both human and rodent) unfold with Peck's characteristic wit and flair for adventure." (Starred Review)
 
-Publishers Weekly

"[Children will] enjoy the twists and turns of this old-fashioned rags-to-riches story. It's written in an easy, unlabored style but still reflects Peck's relish for the perfect word and phrase; readers and listeners (it makes a great read-aloud) will savor every one."
-Horn Book

"A plucky hero, exciting plot, and a [satisfying] resolution, Peck's latest is a gentle homage to old-school adventure tales." (Starred Review)
-School Library Journal

"Peck's writing is so rich, so laugh-out-loud funny, that the picture of the mysterious mousedom, complete with proper clothing, food, and life lessons reels us into a truly original, imaginative world. . . . A more-than-perfect book to share aloud with young readers."
-The Christian Science Monitor

"Peck creates a pleasantly detailed, cozy Victorian mouse world. There's some of Stuart Little's appeal to Mouse Minor's exploits."
-BCCB

"Witty and precise prose… will enchant lovers of animal fantasy. This mouse-sized identity quest sparkles."—Kirkus
-Kirkus Reviews

"Perfect for reading aloud to intermediate grade students or for recommending to readers who enjoy a mystery or a good adventure story. Recommend to fans of The Tale of Despereaux."—Library Media Connection
-Library Media Connection
Advertisement