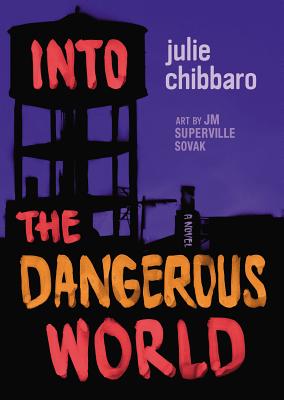 Into the Dangerous World (Hardcover)
Viking Books for Young Readers, 9780803739109, 352pp.
Publication Date: August 18, 2015
Description
At a family meeting, Ror declares her purpose: She is an artist.
But she doesn t really know what that means. Raised on a commune, she's never attended a day of school, and has seen little of the outside world. What she knows best is drawing. To her, it's like breathing; it's how she makes sense of the world.
When her father torches the commune and himself Ror's life changes. She, her mother and sister end up in a homeless residence in Manhattan, where she runs into trouble and love with Trey, the leader of Noise Ink, a graffiti crew.
On the city's streets, and in its museums and galleries, Ror finds herself pulled in different directions. Her father wanted her to make classic art. Noise Ink insists she stay within their lines. Her art teacher urges her to go to college. What does "she" want?
Ror's journey is a seamless blend of words and pictures, cinematic in its scope--a sharp-edged, indelible work of art that will live inside your head.
About the Author
Julie Chibbaro was raised by artists in New York City, and has spent her life figuring out what makes them tick. She married an artist who has helped her enter her characters creative minds. Their first collaboration, the historical novel "Deadly," won the National Jewish Book Award, and was named a Bank Street Best Book. Her first novel, "Redemption," won the American Book Award. Visit Julie at www.juliechibbaro.com.

JM Superville Sovakis half-Trini, half-Czech, half-Canadian. His fourth half is spent making art.His work has been shown at the Manifesta European Biennial of Contemporary Art, Socrates Sculpture Park, and the Aldrich Museum. He was the illustrator for Julie Chibbaro's second novel "Deadly." See more at www.supervillesovak.com.

www.intothedangerousworld.com"
Advertisement