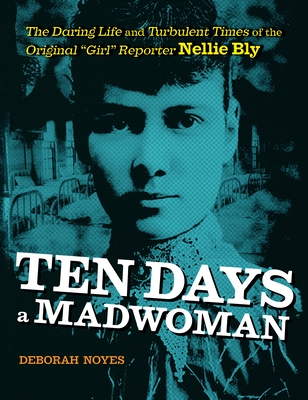 Ten Days a Madwoman
The Daring Life and Turbulent Times of the Original "Girl" Reporter, Nellie Bly
Hardcover

* Individual store prices may vary.
Other Editions of This Title:
Paperback (2/7/2017)
Description
Work for a New York newspaper
Fall in love
Marry a millionaire
Change the world
 
Young Nellie Bly had ambitious goals, especially for a woman at the end of the nineteenth century, when the few female journalists were relegated to writing columns about cleaning or fashion. But fresh off a train from Pittsburgh, Nellie knew she was destined for more and pulled a major journalistic stunt that skyrocketed her to fame: feigning insanity, being committed to the notorious asylum on Blackwell's Island, and writing a shocking exposé of the clinic's horrific treatment of its patients.
 
Nellie Bly became a household name as the world followed her enthralling career in "stunt" journalism that raised awareness of political corruption, poverty, and abuses of human rights. Leading an uncommonly full life, Nellie circled the globe in a record seventy-two days and brought home a pet monkey before marrying an aged millionaire and running his company after his death.
 
With its sensational (and true!) plot, Ten Days a Madwoman dares its readers to live as boldly as its remarkable heroine.
Praise For Ten Days a Madwoman: The Daring Life and Turbulent Times of the Original "Girl" Reporter, Nellie Bly…
Accolades for Ten Days a Madwoman:

- A Junior Library Guild selection
- 2016 Nerdy Book Club Award for Long Form Nonfiction
- A 2016 Cybils Award finalist
- An ALA 2017 Amelia Bloomer list pick
- 2017 New York Historical Society Children's History Book Prize finalist

★ "Noyes makes history accessible and irresistible in this thrilling account of women's lives, flagrant abuse, scandal, courage, and tenacity. . . Excellent." —School Library Journal, starred review

"You should also read Ten Days A Madwoman, even if you're not in middle school. You'll learn something. Because this isn't just a storybook telling of a woman's adventures . . . For a book that chronicles the life of a reporter at the end of the 19th century, Ten Days A Madwoman holds a startling prescience to the issues we face today, from benevolent sexism in the newsroom to the continued exploitation of the working class . . . a gripping book from start to finish, for kids and adults alike." —The A.V. Club

"Plenty of pizzazz. The brisk narrative draws from Bly's own writings and from biographies, skillfully incorporating quotations, dialogue, and well-chosen facts. The overall tone is admiring, but the balanced text also acknowledges criticism of her kind of "stunt" reporting and touches briefly on problems in her personal life . . . A lively biography that reflects the spirit of the intrepid reporter." —Kirkus Reviews

"Noyes's thoroughly researched account, with archival photos and myriad quotes from Bly's own work, offers a well-rounded look at a self-possessed women who was nothing if not resilient." —Publishers Weekly

"Noyes' vivid storytelling throws us headfirst into Nellie Bly's inspiring work and incredibly daring adventures." —Steve Sheinkin, National Book Award Finalist and Newbery Honor–winning author of Bomb and The Port Chicago 50

"Ten Days a Madwoman thrilled and terrified me at the same time. I'd heard of Nellie Bly as a crusading reporter, but had no idea how daring, impetuous, and smart she was. I've got a new hero." —Elizabeth Partridge, National Book Award Finalist and Printz Honor–winning author of John Lennon and This Land Was Made for You and Me

"Noyes delivers a riveting narrative of one of our cleverest and most resourceful heroines, zeroing in on Nellie Bly's first exposé, and putting us right in the madhouse alongside sane women being driven crazy." —Tanya Lee Stone, Sibert Medalist and NAACP Image Award–winning author of Almost Astronauts and Courage Has No Color 

"In Ten Days a Madwoman, Deborah Noyes gives us a compelling portrait of Nellie Bly, the audacious young reporter who risked her own safety to expose social injustice. Vividly written and gorgeously illustrated, the book brings fully to life a heroine of her time — and ours." —Matthew Goodman, bestselling author of Eighty Days: Nellie Bly and Elizabeth Bisland's History-Making Race Around the World

"Noyes' emphasis on muckraking as opposed to showmanship is a valuable corrective to Bly's popular legacy." —Bulletin for the Center of Children's Books
 
"A stimulating read for those interested in strong women throughout history." —VOYA 

"A good, readable introduction to a fascinating vanguard." —Booklist
 
"Noyes smartly...engage[s] readers." —Horn Book
 
"In this truly thrilling, appealingly designed, photo-laden biography by Deborah Noyes, readers will not only get a chilling look into the horrors of Blackwell's Island, but also a sense of women's challenges in 19th-century America." —Shelf Awareness
Viking Books for Young Readers, 9780803740174, 144pp.
Publication Date: February 23, 2016
About the Author
Deborah Noyes is the author of nonfiction and fiction for young readers and adults, including Encyclopedia of the End: Mysterious Death in Fact, Fancy, Folklore, and More, One Kingdom: Our Lives with Animals, and The Ghosts of Kerfol. She has also compiled and edited the short story anthologies Gothic!, The Restless Dead, and Sideshow. She would like to slide down banisters for a living, but writing is the next best thing.