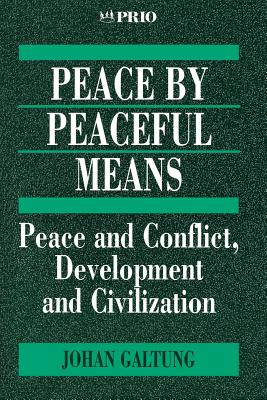 Peace by Peaceful Means (Paperback)
Peace and Conflict, Development and Civilization (International Peace Research Institute #14)
Sage Publications, 9780803975118, 292pp.
Publication Date: November 8, 2001
* Individual store prices may vary.
Description
Johan Galtung, one of the founders of modern peace studies, describes his reason for writing this book as a systematic effort to give a theoretical foundation for peace research, peace education and peace action'. As such, it provides a wide-ranging panorama of the ideas, theories and assumptions on which the study of peace is based.
Two definitions of peace underlie the book. The first definition of peace is dynamic: the state of affairs that makes the nonviolent and creative handling of conflict possible'. The second definition is static: an absence of direct, structural and cultural violence'.
The book is organized into the following parts, each of which studies one of the four major theoretical approaches to peace.
- Peace Theory, which explores the epistemological assumptions of peace studies, as well as the nature of violence and three particular approaches to peace: by changing gender relations, through democracy, and through the better organization of the world system.
- Conflict Theory, which looks at the nonviolent and creative handling of conflict in some detail. Emphasis is placed on the importance of the culture of conflict - on how conflict can be understood at a deeper level.
- Developmental Theory, which explores structural violence, particularly in the economic field, together with a consideration of the ways of overcoming that violence.
- Civilization theory, which involves an exploration of cultural violence, focusing on the deeper aspects of cultures - cosmologies, codes, and programmes - in the collective subconscious and the impact of these on the politics of peace and development.
Finally, in the conclusion, Johan Galtung draws together the threads of these approaches with a focus on peace action - by peaceful means.
This authoritative and original overview is essential reading for students of peace studies, international realtions, sociology, psychology, economics and cultural studies, and for all those involved in conflict resolution and peace processes.