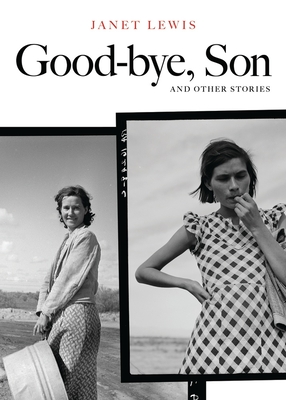 Good-bye, Son and Other Stories (Paperback)
Swallow Press, 9780804008686, 224pp.
Publication Date: August 16, 2019
Other Editions of This Title:
Hardcover (6/30/1986)
* Individual store prices may vary.
Description
Good-bye, Son and Other Stories, Janet Lewis's only collection of short fiction, was first published in 1946, but remains as quietly haunting today as it was then. Set in small communities of the upper Midwest and northern California in the '30s and '40s, these midcentury gems focus on the quiet cycles connecting youth and age, despair and hope, life and death. A mother's encounters with her deceased son, an aging woman sitting with the new knowledge of her troubled older sister's death, and a teenager disillusioned by her own mortality are among the characters, mostly women and girls, whom Lewis delivers. Her understated style and knack for unadorned observation embed us with them as they reckon with the disquieting forces—incomprehensible and destructive to some, enlightening to others—that move us from birth, through life, to death. In the process, Lewis has crafted a paean to the living.
About the Author
Janet Lewis was a novelist, poet, and short-story writer whose literary career spanned almost the entire twentieth century. The New York Times has praised her novels as "some of the 20th century's most vividly imagined and finely wrought literature." Born and educated in Chicago, she lived in California for most of her adult life and taught at both Stanford University and the University of California at Berkeley. Her works include The Wife of Martin Guerre (1941), The Trial of Sören Qvist (1947), The Ghost of Monsieur Scarron (1959), Good-Bye, Son and Other Stories (1946), and Poems Old and New (1982).
Praise For Good-bye, Son and Other Stories…
"Any consideration of the writing of Janet Lewis becomes inevitably a consideration of style. In Good-bye, Son, she exhibits a classical purity that is rare."—New York Times
"The collection may remind you of some of the quiet stories of Willa Cather."—The New Yorker
"(Good-bye, Son, and Other Stories) is … an unaccountably neglected book, a collection [that explores] the apprehension and experiencing of death, and the consolatory power inherent in understanding one's place and part in the natural cycle of birth, death, and rebirth."—Christian Science Monitor
"(Janet Lewis) is a striking example of a quiet talent working quietly through almost the entirety of a noisy, celebrity-heavy century."—Larry McMurtry, New York Review of Books
"[Lewis] thrusts us into the essence of a situation, startling us out of the role of complacent observer and into that of active participant. This steady movement and these brief revelations work together to give the stories a collective meaning."—Deanna L. Kern Ludwin, Western American Literature
or
Not Currently Available for Direct Purchase