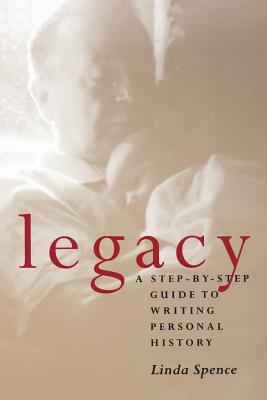 Legacy
A Step-By-Step Guide To Writing Personal History
Paperback

* Individual store prices may vary.
Other Editions of This Title:
Hardcover (11/1/1997)
Description
When Linda Spence asked her aging mother to write her life story, her mother stared at a blank sheet of paper and asked—"How? Where do I begin?" In this practical guide to capturing those memories that have been stored away, Linda Spence provides the questions that are the keys to unlocking the memories that make up a life.
Beyond the vital statistics are the personal stories that tell what it was like, what we did, and why we did it, how we feel about our choices, and what our circumstances were. Through encouraging coaching, shared memories, and open-ended questions, the process of producing a personal history becomes intriguing and engaging.
With Legacy the possibilities expand: a personal record is preserved—with its myths, traditions, joys, pains, gains, and losses; a family opens a potential dialogue that will last for generations; the writer has an opportunity for insight and resolution; the culture of a time and place is noted; the tradition of personal story is revitalized, and our present and future find nourishment and knowledge in the past.
Either as a gift that can act as a shared experience as the memories are recounted or as a personal way to take account of one's experiences, often long since forgotten, Legacy is indeed a way to get one's story down.
Praise For Legacy: A Step-By-Step Guide To Writing Personal History…
"Prompted by the belief that every-day life has value and knowledge from generations ahead, Spence has compiled a well-organized, inspiring introduction to systematically recording family histories…In lucid prose, the work suggests specific topics, questions to ask and inspires an impetus for a new generation of historians and scribes."—Come-All-Ye of Legacy Books
"Spence creates a compelling context for recording the stages of one's life. In each section, from childhood through grandparenting, Spence compiles a wealth of penetrating questions to help guide the novice and more skilled writer alike."—Booklist
"Has great potential for people working with nursing–home patients. Recommended."—Library Journal
"Linda Spence's Legacy proves to be just that: the creation of a family heirloom that money couldn't buy. Through a series of thought-provoking questions about each phase in human life, Spence helps readers record their personal history, think back to feelings that any number of snapshots could never capture, and reflect upon their lives."—Amazon.com
"A personal history is a gift to share. Through supportive coaching, stimulating questions, shared memories, and evocative photographs, the process of producing a personal history becomes intriguing and engaging."—Feminist Bookstore News
Swallow Press, 9780804010030, 184pp.
Publication Date: November 1, 1997
About the Author
Linda Spence writes and collects Legacy stories in Mill Valley, California, where she lives and works as a consultant.