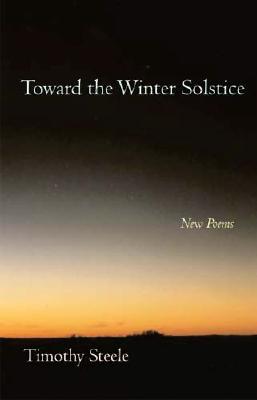 Toward the Winter Solstice (Paperback)
New Poems
Swallow Press, 9780804010917, 72pp.
Publication Date: April 26, 2006
Other Editions of This Title:
Hardcover (4/26/2006)
* Individual store prices may vary.
Description
Since the appearance of Timothy Steele's first collection of poems in 1979, growing numbers of readers and critics have recognized him as one of the best and most significant poets of his generation. Widely credited with anticipating and encouraging the revival of poetry in traditional form, Steele has produced a body of work praised for its technical accomplishment, its intellectual breadth, and its emotional energy.

Toward the Winter Solstice, Steele's first collection of new poems in twelve years, features his characteristic grace, wit, and power, while extending his range. In addition to the relatively short lyrical, descriptive, and contemplative poems he has always written so well, this collection offers several middle-length pieces that read almost like compressed novels.

Addressing a variety of topics and themes, Toward the Winter Solstice explores the relationship between the world of nature and the world of ideas. In one way or another, the poems attempt to link the external material universe with that sense of inward self-awareness central to our experience of life. Throughout, Steele writes with a clarity that not only illuminates his subjects but also acknowledges and preserves their ultimate mystery and complexity.
About the Author
Timothy Steele's previous collections of poetry include The Color Wheel and Sapphics and Uncertainties: Poems 1970-1986. He has also published two widely discussed works of literary criticism, Missing Measures: Modern Poetry and the Revolt against Meter and All the Fun's in How You Say a Thing: An Explanation of Meter and Versification. He is a professor of English at California State University, Los Angeles.
Praise For Toward the Winter Solstice: New Poems…
Booklist Review.March 1 , 2006Steele, who was in the vanguard of the 1980s swing back to regular meter and rhyme in American poetry, is a formalist's formalist, so technically adroit that he could write about anything and produce a poem repeatedly rewarding for music and shapeliness alone, and subject matter be damned. He isn't so cavalier about meaning, however, as that characterization of his exquisite craftsmanship may suggest. Indeed, he writes about most important matters: the kindness he did 30 years ago for a little boy in Paris, the faithfulness of a common bird that doesn't migrate, setting the star of faith atop the roof for another winter solstice, watching familiar surroundings emerge out of the historic and biblical possibilities a foggy daybreak suggests. The importance felt is, first, intimate, personal, deliberately nondazzling; it only gradually comes to seem general and cosmic. A good Steele poem often recalls the best domestic and modest Longfellow and Whittier poems, which have worn well because of their formal assurance. Steele's work seems every bit as durable.
"Timothy Steele's poetry exemplifies the order that he praises, but ultimately it is both the charity and the clarity of his vision that are most remarkable."
— Sewanee Review
"If ever a poet has been able to wring a noble private order from ignoble public chaos it is Steele, whose Toward the Winter Solstice moves back and forth between the pastoral Vermont of the poet's youth and the world of his macadamized adulthood."
— Hudson Review
"Once again Steele has done what he does best: offer celebratory, attentive verses that reveal a mind eager to both inspire and instruct, to witness the world sincerely while still making it his own."
— American Poet