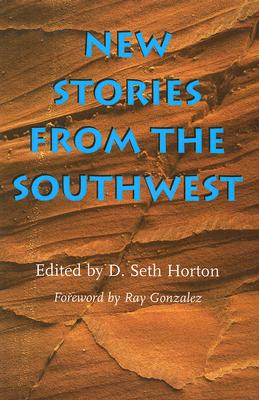 New Stories from the Southwest (Paperback)
Swallow Press, 9780804011075, 288pp.
Publication Date: January 1, 2008
Other Editions of This Title:
Hardcover (12/11/2007)
* Individual store prices may vary.
Description
The beauty and barrenness of the southwestern landscape naturallylends itself to the art of storytellers. It is a land of heat and dryness, aland of spirits, a land that is misunderstood by those living along thecoasts.

New Stories from the Southwest presents nineteen short stories that appeared in North American periodicals between January and December 2006. Though many of these stories vary by aesthetics, tone, voice, and almost any other craft category one might wish to use, they are nevertheless bound together by at least one factor, which is that the landscape of the region plays a key role in their narratives. They each evoke and explore what it means to exist in thisunique corner of the country.

Selected by editor D. Seth Horton, the former fiction editor for the Sonora Review, from a wide cross-section of journals and magazines, and with a foreword by noted writer Ray Gonzalez, New Stories from the Southwest presents a generous sampling of the best of contemporary fiction situated in this often overlooked area of the country. Swallow Press is particularly pleased to publish this wide-ranging collection of stories from both new and established writers.

Contributors to New Stories from the Southwest are:
- Alan Cheuse
- Matt Clark
- Lorien Crow
- Kathleen De Azvedo
- Alan Elyshevitz
- Marcela Fuentes
- Dennis Fulgoni
- Ray Gonzalez
- Anna Green
- Donald Lucio Hurd
- Toni Jensen
- Charles Kemnitz
- Elmo Lum
- Tom McWhorter
- S. G. Miller
- Peter Rock
- Alicita Rodriguez
- John Tait
- Patrick Tobin
- Valery Varble
About the Author
D. Seth Horton was born in San Diego and graduated from the

University of Arizona with an MFA in creative writing. A former fiction

editor for the "Sonora Review," he currently lives in Tucson with his wife.
Praise For New Stories from the Southwest…
"A bold collection.... Mr. Horton picked well; these stories so assuredly conjure the Southwest the authors' pens might as well have been dipped in cactus juice, tobacco spit or tequila. The traditions of American Indians, Tejanos, even the occasional Yankee transplant are documented with a tempered mix of reverence and impudence."—Dallas Morning News
"As varied and bold as the colorful landscape of the American Southwest.... New Stories from the Southwest is an amazing collection. Grade: A"—Tucscon Citizen
"D. Seth Horton's excellent New Stories From the Southwest is a satisfying departure from the usual in that all 19 of its authors have something to say about how their stories came about.... In this collection, emerging voices tell the tales. They are stories of the Southwest but not necessarily by authors who live here."— Albuquerque Journal
"At a time when fiction itself seems fragile, these are the kinds of voices that could help keep the spark of literary fiction glowing outside the academy as well. We look forward to more of them in the nextversion of New Stories from the Southwest."— Tucson Weekly
"Place as a literary concept in the stories collected here functions as a world where anything can happen, usually does, and the fascinating characters experience their human conflicts on a universal stage."—Ray Gonzalez
or
Not Currently Available for Direct Purchase