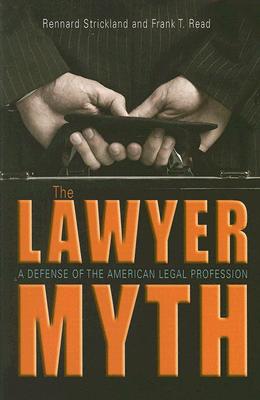 The Lawyer Myth (Paperback)
A Defense of the American Legal Profession
Swallow Press, 9780804011112, 168pp.
Publication Date: March 11, 2008
Other Editions of This Title:
Hardcover (3/11/2008)
* Individual store prices may vary.
Description
Lawyers and the legal profession have become
scapegoats for many of the problems of our
age. In The Lawyer Myth: A Defense of the
American Legal Profession, Rennard Strickland and
Frank T. Read look behind current antilawyer media
images to explore the historical role of lawyers as a
balancing force in times of social, economic, and political change. One source of this disjunction of perception and reality, they find, is that American society has lost touch with the need for the lawyer's skill and has come to blame unrelated social problems on the legal profession. This highly personal and impassioned book is their defense of lawyers and the rule of law in the United States.
The Lawyer Myth confronts the hypocrisy of critics from both the right and
the left who attempt to exploit popular misperceptions about lawyers and
judges to further their own social and political agendas. By revealing the facts and reasoning behind the decisions in such cases as the infamous McDonald's coffee spill, the authors provide a clear explanation of the operation of the law while addressing misconceptions about the number of lawsuits, runaway jury verdicts, and legal "technicalities" that turn criminals out on the street.
Acknowledging that no system is perfect, the authors propose a slate of reforms for the bar, the judiciary, and law schools that will enable today's lawyers—and tomorrow's—to live up to the noble potential of their profession. Whether one thinks of lawyers as keepers of the springs of democracy, foot soldiers of the Constitution, architects and carpenters of commerce, umpires and field levelers, healers of the body politic, or simply bridge builders, The Lawyer Myth reminds us that lawyers are essential to American democracy.
About the Author
Rennard Strickland is the Philip H. Knight Professor of Law and dean emeritus at the University of Oregon School of Law and founding director of the University of Oklahoma Center for the Study of American Indian Law and Policy.

Frank T. Read is a former president and dean of South Texas College of Law
where he is currently a professor of law.
or
Not Currently Available for Direct Purchase