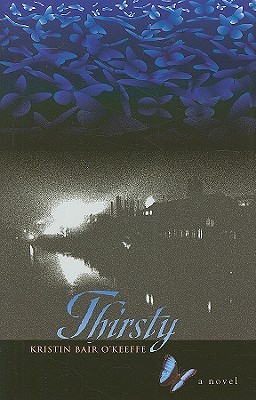 Thirsty
A Novel
Hardcover

* Individual store prices may vary.
Description
It is 1883, and all of Klara Bozic's girlish dreams have come crashing down as she arrives in Thirsty, a gritty steel town carved into the slopes above the Monongahela River just outside of Pittsburgh. She has made a heartbreaking discovery. Her new husband Drago is as abusive as the father she left behind in Croatia.

In Kristin Bair O'Keeffe's debut novel, Klara's life unfolds over forty years as she struggles to find her place in a new country where her survival depends on the friends who nurture her: gutsy, funny Katherine Zupanovic, who isn't afraid of Drago's fist; BenJo, the only black man in Thirsty to have his own shop; and strangely enough, Old Man Rupert, the town drunk.

Thirsty follows a chain of unlikely events that keep Klara's spirit aloft: a flock of angelic butterflies descends on Thirsty; Klara gives birth to her first child in Old Man Rupert's pumpkin patch; and BenJo gives her a talking bird. When Klara's daughter marries a man even more brutal than Drago, Klara is forced to act. If she doesn't finally break the cycle of violence in her family, her granddaughters will one day walk the same road, broken and bruised. As the threads that hold her family together fray and come undone, Klara has to decide if she has the courage to carve out a peaceful spot in the world for herself and her girls.
Praise For Thirsty: A Novel…
"Thirsty is a rare and special type of book—an intelligent page turner, a forward-thinking historical drama, a picture painted with equal shades of light and darkness. The language is consistently surprising and often intensely beautiful, the characters rich
with nuance."
— David Crouse, author of The Man Back There

"A debut novel that is artfully told and full of literary surprises, Kristin Bair O'Keeffe's Thirsty tackles oppression at the turn of the twentieth century without wincing. . . . Stark, poetic, and brimming with hope, Thirsty glimpses the uncomfortable truth about what it means to house a battered heart and live a life shackled by seemingly insurmountable circumstances."
— Christina Katz, author of Writer Mama and Get Known before the Book Deal

"Thirsty is a beautiful tale, vivid and gently told. It is the story of one woman's incredible strength of spirit, and a reminder of the foundation contemporary America is built upon—one of unspeakable cruelty, and Job-like suffering, as well as generosity and unbreakable hope."
— Don De Grazia, author of American Skin

"Kristin Bair O'Keeffe's Thirsty has all the power of a small miracle. The mysteries of nineteenth century, small town factory life—the sudden appearance of thousands of butterflies, an extraordinary affliction of hiccups, a talking bird—brilliantly transcend the accumulation of everyday cruelties. A remarkably good read."
— Joe Meno, author of The Great Perhaps and Hairstyles of the Damned

An "intelligent, poignant and well-written novel…. A must read."
— Story Circle Book Reviews

"This is a multi-layered book that cannot be read too quickly. It is a novel about domestic abuse, social class, stereotypes, prejudice, sexuality, faith, and friendship. Kristin Bair O'Keeffe's poetic writing grasps the reader and does not let go until the final words of the last chapter. Her descriptions of tragedy and loss are so gut wrenching! At times, I found myself holding my breath."
— Author Exposure Book Club

"What I liked most: The writing. The writing is beautiful…. Recommend it to? Anyone who likes reading character-driven books. The writing is beautiful so it's well worth a read."
— Kay's Bookshelf

"With important—and contemporary—issues at stake in the life of a fully fleshed character, the novel has the makings of a savored read. And O'Keeffe's succulent language quenches a thirst."
— ForeWord Reviews
Swallow Press, 9780804011235, 215pp.
Publication Date: September 29, 2009
About the Author
Kristin Bair O'Keeffe has an MFA in Creative Writing from Columbia College Chicago. Her work has appeared in a variety of publications, including the Pittsburgh Post- Gazette, Poets & Writers Magazine, the Baltimore Review, and the Gettysburg Review. She lives in Shanghai, China.
or
Not Currently Available for Direct Purchase