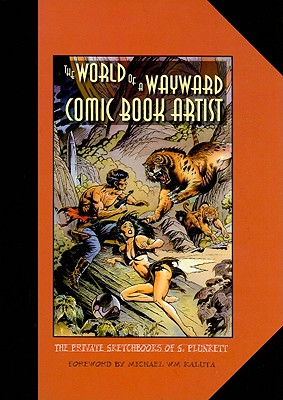 The World of a Wayward Comic Book Artist (Hardcover)
The Private Sketchbooks of S. Plunkett
Swallow Press, 9780804011242, 224pp.
Publication Date: March 15, 2010
Other Editions of This Title:
Paperback (3/15/2010)
* Individual store prices may vary.
Description
The World of a Wayward Comic Book Artist: The Private Sketchbooks of S. Plunkett is a fascinating look at the creative processes of Sandy Plunkett. A self-taught illustrator and comic book artist, Plunkett came of age in New York City during the '60s and '70s and began drawing for Marvel Comics at eighteen. Throughout his ongoing career he has drawn for several other major publishers, including DC.
Featuring nearly four hundred selections from sketchbooks kept over the past twenty years, this collection is an insightful examination of the difficulties and successes Plunkett has experienced in keeping his work alive and evolving. The drawings cover a wide range of styles and subject matter, though all are rooted in the visual vernacular of illustration, comic, and popular art of America, evincing influences as diverse as Thomas Hart Benton and R. Crumb. Images of creatures, both actual and imagined, fabulous characters, and dreamlike worlds are juxtaposed with studies from Plunkett's life. The sketchbook images, along with a foreword by Michael Wm Kaluta and an updated interview of Plunkett by Comic Book Artist's Tim Barnes, provide a fascinating insight into artistic process, debate, and fruition.
About the Author
Sandy Plunkett's career began in New York City drawing for DC and Marvel Comics. His trademark look can be seen on countless posters, album covers, and political cartoons. He lives in Athens, Ohio.
Praise For The World of a Wayward Comic Book Artist: The Private Sketchbooks of S. Plunkett…
"There's never been a person, self-proclaimed artist or otherwise, whose reaction to seeing their first Sandy Plunkett art wasn't 'Oh my! Where can I see more?' This book is an answer to all the years of our unified desire for a full helping of Sandy's art."—Michael Wm Kaluta, from the foreword
"The book is a delight, partly for the terrific drawings that spill through it, and partly for the narrative that reveals Plunkett's engaging, self-effacing personality. He's never quite sure he's good enough, even while evidence of his talent is on the facing page…. Like all good journals, the book is a potpourri of ideas…. Grade: A"—CityBeat (Cincinnati)
"More than the artist sketchbook portfolios usually seen on the market, The World of a Wayward Comic Book Artist is an exploration of Sandy Plunkett's creative process. Intuitively arranged, sketches flow one to another, linked by narratives taken from Plunkett's sketchbooks, which often double as a journal."—Kirkus Reviews
"Plunkett has generally shunned the spotlights, intent on driving his own path both in his personal life as well as in the creative worlds at large. (The World of a Wayward Comic Book Artist) is a finely packaged testament to the many suggestive roads traveled thus far by someone who apparently, fiercely, literally lives and breathes Art itself…. As complete as any life in progress, this book has left me so speechless as to be stretching for the words with which to express its impact."—SP! Nexus
"…an alluring mix of superheroes, fantasy figures, life drawing, experiments, and more. (Plunkett) also provides a few essays in order to put some of the work into context, and an interview conducted with Plunkett by COMIC BOOK ARTIST also enhances the book as well. If you're looking to discover what kind of person draws comics, and perhaps why they draw comics, then this book will definitely aid in an exploration for answers. It's nicely produced, smartly packaged, and full of enough eye candy to satisfy the sweetest of sweet tooths."—Comics Waiting Room
"Plunkett has generally shunned the spotlights, intent on driving his own path both in his personal life as well as in the creative worlds at large. (The World of a Wayward Comic Book Artist) is a finely packaged testament to the many suggestive roads traveled thus far by someone who apparently, fiercely, literally lives and breathes Art itself…. As complete as any life in progress, this book has left me so speechless as to be stretching for the words with which to express its impact."
— SP! Nexus
"…an alluring mix of superheroes, fantasy figures, life drawing, experiments, and more. (Plunkett) also provides a few essays in order to put some of the work into context, and an interview conducted with Plunkett by COMIC BOOK ARTIST also enhances the book as well. If you're looking to discover what kind of person draws comics, and perhaps why they draw comics, then this book will definitely aid in an exploration for answers. It's nicely produced, smartly packaged, and full of enough eye candy to satisfy the sweetest of sweet tooths."
— Comics Waiting Room
"For graphic art fans, the book is a feast of Plunkett's work—always recognizable as his own, but ranging over a wide stylistic territory. Some of it's funny, some of it's dark, and some of it's just superb realistic sketching. Plunkett also happens to be a graceful and thoughtful writer, and his ruminations on what drives him to draw, what makes his art look the way it does, and his worries over whether he'll ever be able to create anything really lasting, are far more than just filler between the pictures."
— The Athens NEWS
or
Not Currently Available for Direct Purchase