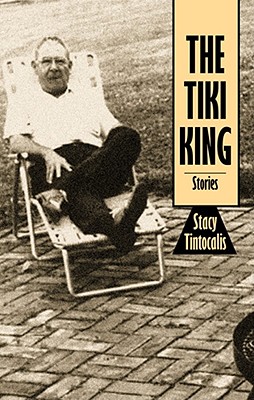 The Tiki King (Paperback)
Stories
Swallow Press, 9780804011273, 184pp.
Publication Date: July 20, 2010
Other Editions of This Title:
Hardcover (7/20/2010)
* Individual store prices may vary.
Description
A Lebanese housewife, a former horror-film maker, and a cantankerous Russian librarian are among the inhabitants of the offbeat world found in this impressive debut collection. Stacy Tintocalis's stories take us from a defunct women's shelter off a Missouri country road to the streets of low-income Hollywood, where her characters yearn for the love that is always just out of reach.

The title story explores the conflicted emotions an adolescent boy feels toward a father who obsessively returns to his childhood home. In "Too Bad about Howie," a divorced poet finds comfort in stolen moments with his ex-wife's dog. Despite their longing for connection, these characters are victims of their own foibles, trapped in terrifying moments of psychic violence that risk driving away the very people they love.
About the Author
Stacy Tintocalis has published fiction and nonfiction in journals such as Crazyhorse, Cream City Review, and the Wilshire Review. Stories from her collection have won The Journal's Annual Fiction Prize and Santa Clara Review's Editor's Choice Prize. She currently resides in Mountain View, Missouri.
Praise For The Tiki King: Stories…
"Stacy Tintocalis is a magician and an artist: with one hand she sculpts the dangerous terrain of secret sorrow, while with the other she swiftly paints the strange healing power of hurt, the potent, heart-sparking heat of desire. Quietly devastating, delightfully surprising, the tales of The Tiki King are saturated with tender revelations and startling pleasures."
— Melanie Rae Thon, author of Sweet Hearts and First, Body
"These 10 vigorous stories from Tintocalis mine the inner lives of Russian and Lebanese émigrés and crummy California divorceés alike…. Tintocalis's debut is filled with strange characters who maintain puzzling appeal despite—and often because of—their quirks."
— Publishers Weekly
"(Tintocalis) has a knack for finding the odd, authenticating detail. As a result, characters…aren't just behind a page. They lean toward the reader. They seem personal and life-sized. One can neither sum them up nor predict them…. This collection will seal (Tintocalis) as one of the country's emerging writers."
— ForeWord Reviews (May/June 2010 projected)
"In her debut story collection, The Tiki King, Stacey Tintocalis has crafted a book whose quirks beautifully dovetail with its deep, dark undertones. Tintocalis's characters and neighborhoods, ostensibly shiny, are disguised by veneers that are beginning to peel and crack after years of stress and strain. With ten stories that run the gamut from the emotional musings of a man watching a female stranger iron his shirt ('Iron'), to the existential plumbing of an abandoned woman adrift in lust for her husband's brother ('Geishas'), The Tiki King is as varied as it is pleasurable."
— The Rumpus
"This debut collection is a stunner. Stacy Tintocalis keeps us guessing as each of these stories unfolds. She reveals characters who are not always what they seem, and may not know themselves as well as the reader does by the end. Tintocalis handles her material with tough grace and has the ability to both shock and move us."
— Rebecca Chace, author of Leaving Rock Harbor
"The Tiki King is an excellent, fun, and quite riveting read of short fiction that will prove very difficult to put down."
— Midwest Book Review
"A nurse gifted with the power to put people to sleep. A schoolteacher confronted by her missing husband's porn collection. A son forced to share his father's obsession with a childhood suburban home. Stacy Tintocalis finds the rabbit hole in our ordinary world, and down we go, following her headlong, as she deftly excavates layer after layer of human frailty and desire, to reveal the hidden inner worlds that are always lurking, always waiting to trip us up. I don't know what's more impressive; Tintocalis' ability to inhabit and empathize with so many points of view, or her deft style that manages always to walk the tightrope of what is humorous and sad. An impressive debut collection; I can't wait to see what hidden inner world Tintocalis will, like Lorrie Moore before her, magically mine for us next."
— Marie Mutsuki Mockett, author of Picking Bones from Ash
"To my mind, '[Too Bad about] Howie' satisfies perfectly: I am tickled as much as I am touched."
— Lee K. Abbott, judge, The Journal Short Story Contest