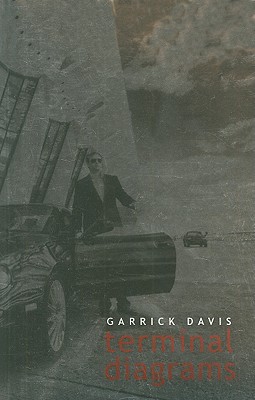 Terminal Diagrams (Paperback)
Poems
Swallow Press, 9780804011310, 80pp.
Publication Date: December 21, 2010
Other Editions of This Title:
Hardcover (12/21/2010)
* Individual store prices may vary.
Description
Garrick Davis's Terminal Diagrams may have been inspired by the illustrated maps in airport lounges, or perhaps they are the blueprints of the Apocalypse, with their subjects and objects representing the bitter fruits of either some future nightmare or the present world. Regardless, their vision is so bleak and unsparing, only a few will be able to savor them. Here, the art of poetry has been mechanized just as the world has been mechanized. Whether his subject is a car accident on the freeways of Los Angeles or the Book of Revelation transmitted by television, Davis's stanzas conjure a kind of futuristic noir. In poem after poem, he examines the artistic possibilities of the machine, and its alterations of human experience, with a modern spirit that—as Baudelaire defined it—has embraced "the sublimity and monstrousness of something new."
About the Author
Garrick Davis is the founding editor of the Contemporary Poetry Review, the largest online archive of poetry criticism in the world (cprw.com). His poetry and criticism have appeared in the New Criterion, Verse, the Weekly Standard, McSweeney's, and the New York Sun. He is the folklore and traditional arts division specialist of the National Endowment for the Arts in Washington, DC.
Praise For Terminal Diagrams: Poems…
"These are formally elegant poems on subjects that are inelegant and indeed chaotic and mad. That juxtaposition gives [these] poems an enormous leverage and credence and conviction."
— Sherod Santos, author of The Intricated Soul: New and Selected Poems
"These poems are made of steel."
— Willis Barnstone
"Davis is brutal in his portrayal of our society's ills—all the more so because he cleverly refrains from indicting the phenomena he depicts with such clear, visceral imagery…."
— Raintown Review
"I must say I dearly love this collection. It does what all good poetry—what art—must do—it presents the world in new ways and, as poetry, translates the unspoken words bound upon our modern tongue."
— Strong Verse
"Davis's concept, in Terminal Diagrams, is as exciting as the ultra-modern chrome-silver covers would suggest. While almost all the poems within its covers are formal, their images are entirely contemporary."
— Eclectica