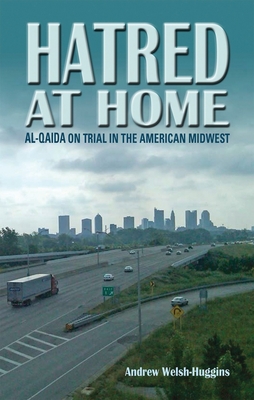 Hatred at Home
al-Qaida on Trial in the American Midwest
Hardcover

* Individual store prices may vary.
Description
One day in 2002, three friends — a Somali immigrant, a Pakistan–born U.S. citizen, and a hometown African American — met in a Columbus, Ohio coffee shop and vented over civilian casualties in the war in Afghanistan. Their conversation triggered an investigation that would become one of the most unusual and far–reaching government probes into terrorism since the 9/11 attacks.
Over several years, prosecutors charged each man with unrelated terrorist activities in cases that embodied the Bush administration's approach to fighting terrorism at home.
Government lawyers spoke of catastrophes averted; defense attorneys countered that none of the three had done anything but talk. The stories of these homegrown terrorists illustrate the paradox the government faces after September 11: how to fairly wage a war against alleged enemies living in our midst.
Hatred at Home is a true crime drama that will spark debate from all political corners about safety, civil liberties, free speech, and the government's war at home.
Praise For Hatred at Home: al-Qaida on Trial in the American Midwest…
"In Hatred at Home, Andrew Welsh-Huggins captures the unease in our backyards.… He objectively explores the nature of the nation's new and incredibly difficult balancing act—providing federal agents with the investigative and legal tools needed to prevent another 9/11, while still trying to safeguard long-cherished civil rights."—The Columbus Dispatch

"Unlike most such narratives, which limit themselves to legal issues, Hatred at Home shows readers the conspirators as they are radicalized.… This short book is the most thorough case study of the radicalization of domestic 'sleeper cells' to date."—Choice: Current Reviews for Academic Libraries

"(Welsh-Huggins's) book provides no easy answers but does raise serious questions with repercussions far beyond Ohio. Rights and freedom, the hallmarks of American life, are among the elements at risk when fighting terrorists, who themselves are out to nullify them."—Cincinnati CityBeat

"The September 11 attacks changed plenty of things in our daily lives, from being afraid to open letters for fear of anthrax to having to remove our shoes before we get on airplanes. They changed a lot in law, too, as Associated Press reporter Andrew Welsh-Huggins explains in Hatred at Home: Al-Qaida on Trial in the American Midwest. "—Akron Beacon Journal
Swallow Press, 9780804011341, 208pp.
Publication Date: August 22, 2011
About the Author
Andrew Welsh-Huggins is a reporter for the Associated Press in Columbus, Ohio, and the Nero Award–finalist author of six mysteries from Swallow Press featuring Andy Hayes, a former Ohio State and Cleveland Browns quarterback turned private eye. Welsh-Huggins is also the editor of Columbus Noir (Akashic Books) and his short fiction has appeared in publications including Ellery Queen Mystery Magazine, Mystery Weekly, and Mystery Tribune. His nonfiction book No Winners Here Tonight (Ohio University Press) is the definitive history of the death penalty in Ohio.