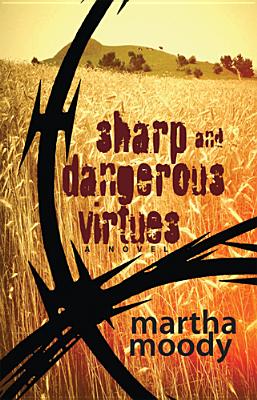 Sharp and Dangerous Virtues
A Novel
Hardcover

* Individual store prices may vary.
Description
A Dayton Daily News Top Fiction Title of 2012
It's 2047 in Dayton, Ohio. In response to food and water shortages, the U.S. government has developed an enormous, and powerfully successful, agricultural area—the "Heartland Grid"—just north of the city. In the meantime, in the wake of declining American power a multinational force has established itself in Cleveland. Behind these quickly shifting alliances lies a troubling yet tantalizing question: what will the American future look like?

Sharp and Dangerous Virtues is the story of ordinary people caught in situations they had never planned for or even imagined. There are Chad and Sharis, a married couple with two sons, holding out for normal life in their decaying suburb; Tuuro, a black church custodian whose false confession of murder is used for political purposes; Lila, Dayton's aging, lonely Commissioner of Water, who dreams of being part of the "pure" existence of the Grid residents; and Charles and Diana, idealistic lovers trying desperately to preserve the nature center that has become their refuge.

What will these people do? What choices are left for them, and what choices have been taken away? Whom and what can they trust? Novelist Moody—known for her vivid portrayals of complicated characters and relationships in novels such as Best Friends and Sometimes Mine—weaves together cataclysmic events and the most intimate of human emotions to create a future that seems achingly real. Sharp and Dangerous Virtues will change the way you think and feel.
Praise For Sharp and Dangerous Virtues: A Novel…
"Thought-provoking without being moralistic, Sharp and Dangerous Virtues is a suspenseful what-if that readers will continue to ponder long after they've put it down."—Booklist

"Sharp and Dangerous Virtues is an excellent novel…. Moody's obvious skill in handling the setting, her vivid detailing of her characters lives and struggles in a world not so different from our own, makes for an exciting and interesting experience. Settling into the book, the reader realizes early on that they're in the hands of a skilled writer, someone who knows and understands people and who has something interesting and unique to say about the human condition."—Dayton City Paper

"In Sharp and Dangerous Virtues Martha Moody has conjured up anapocalyptic thriller unfolding in an Orwellian Twilight Zone formerlyknown as the heartland of America. Just pretend it can't happen here.Prepare to be invaded." —Vick Mickunas, Dayton Daily News

"(Sharp and Dangerous Virtue's) provocative vision of a darker future and insightful glimpses into the responses of ordinary Americans to outside pressure make it fascinating."—The Columbus Dispatch

About Best Friends
"First novels that track a pair of friends from college days through their subsequent lives aren't exactly uncommon, but Moody's is so freshly observed and gifted with a palpable sense of the ravages of time that it feels utterly new."
—Publishers Weekly, starred review
Swallow Press, 9780804011419, 400pp.
Publication Date: October 9, 2012
About the Author
Martha Moody is a lifelong resident of Ohio. A novelist and physician from Dayton, Moody's three previous books of fiction have sold close to 1 million copies. She is the author of Best Friends (2001), The Office of Desire (2007), and Sometimes Mine (2009).

Born in Canfield and raised in Mount Vernon and Mentor, Moody graduated from Mentor High School and Oberlin College. She received her MD and completed her residency at the University of Cincinnati College of Medicine. Married to Martin Jacobs, MD, since 1985, she was a private practice internist for fifteen years before retiring to spend more time writing and with her husband and four sons.

Since 2000, she has volunteered as a doctor in a clinic for the working poor, as a writing teacher for schools and arts centers, and in the Dayton Jewish community, activities for which she has received several awards. For the past five summers she has led groups of volunteers to Israel to teach English at a two-week camp in Deir al-Assad, an Arab village in the Galilee.
or
Not Currently Available for Direct Purchase