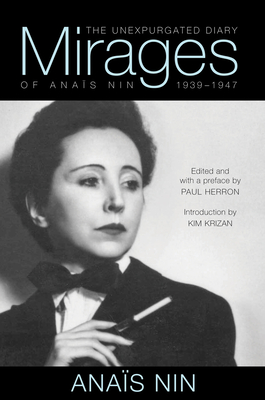 Mirages: The Unexpurgated Diary of Anais Nin, 1939-1947 (Hardcover)
The Unexpurgated Diary of Anais Nin, 1939-1947
Swallow Press, 9780804011464, 415pp.
Publication Date: October 30, 2013
* Individual store prices may vary.
or
Not Currently Available for Direct Purchase
Description
"Mirages" opens at the dawn of World War II, when Anais Nin fled Paris, where she lived for fifteen years with her husband, banker Hugh Guiler, and ends in 1947 when she meets the man who would be the One, the lover who would satisfy her insatiable hunger for connection. In the middle looms a period Nin describes as hell, during which she experiences a kind of erotic madness, a delirium that fuels her search for love. As a child suffering abandonment by her father, Anais wrote, Close your eyes to the ugly things, and, against a horrifying backdrop of war and death, Nin combats the world's darkness with her own search for light.
"Mirages" collects, for the first time, the story that was cut from all of Nin's other published diaries, particularly volumes 3 and 4 of "The Diary of Anais Nin, " which cover the same time period. It is the long-awaited successor to the previous unexpurgated diaries "Henry and June, Incest, Fire, " and "Nearer the Moon." Mirages answers the questions Nin readers have been asking for decades: What led to the demise of Nin's love affair with Henry Miller? Just how troubled was her marriage to Hugh Guiler? What is the story behind Nin's children, the effeminate young men she seemed to collect at will? "Mirages" is a deeply personal story of heartbreak, despair, desperation, carnage, and deep mourning, but it is also one of courage, persistence, evolution, and redemption that reaches beyond the personal to the universal.
About the Author
Anais Nin was born in Paris in 1903. At age eleven, she began her lifelong practice of keeping a diary, the literary form that would make her famous. She moved to the United States during her youth but returned to France after her marriage to Hugh P. Guiler. During her time in France she met the writer Henry Miller, who became her lover and an important figure in her first published diary. In Paris during the 1930s she also began therapy with Otto Rank, a disciple of Sigmund Freud, and this therapeutic relationship was a significant influence on her life and work.

Nin returned to America in 1939, establishing friendships with a number of writers and artists. She developed a small but devoted following as a fiction writer, though her work often defied genre conventions and became known for its innovation and experimentation. But it was the publication of her diaries, spread over many volumes, that made Nin a major literary figure in the late 1960s and 1970s. Deeply reflective, lyrical, and erotic, the diaries were embraced by numerous readers for their insight into a fascinating woman and the many relationships she developed over her lifetime. Paul Herron is the editor and founder of Sky Blue Press."
Advertisement