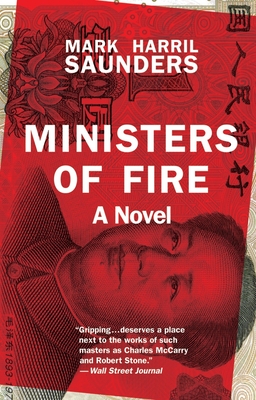 Ministers of Fire
A Novel
Paperback

* Individual store prices may vary.
Other Editions of This Title:
Hardcover (4/12/2014)
Description
Kabul, Afghanistan, 1979: CIA station chief Lucius Burling, an idealistic but flawed product of his nation's intelligence establishment, barely survives the assassination of the American ambassador. Burling's reaction to the murder, and his desire to understand its larger meaning, propel him on a journey of intrigue and betrayal that will reach its ultimate end in the streets of Shanghai, months after 9/11. A Chinese dissident physicist may (or may not) be planning to sell his country's nuclear secrets, and in his story Burling, now living quietly as consul, recognizes the fingerprints of a covert operation, one without the obvious sanction of the Agency. The dissident's escape draws the violent attention of the Chinese internal security service, and as Burling is drawn inexorably into their path, he must face the ghosts of his past misadventures and a present world of global trafficking, fragile alliances, and the human need for connection above all.
Reminiscent of the best work of Graham Greene and John le Carré, Ministers of Fire extends the spy thriller into new historical, political, and emotional territory.
Praise For Ministers of Fire: A Novel…
"Ministers of Fire is a beautifully written, restrained, and passionate work by a writer who knows the ins and outs and intrigues of the New World Order all too well. His prose is alive with insight, his characters are both recognizable from the news and internally realized. His novel has psychological depth, action, and suspense. It's a fine work and its author is a writer of great promise."—Robert Stone, author of Dog Soldiers and Damascus Gate
"In Mark Harril Saunders's gripping first novel, Ministers of Fire, tensions and ambiguities induce moral guilt and mortal dread…. Mr. Saunders makes his large cast of international characters come to life with quick strokes. Ministers of Fire deserves a place next to the works of such masters as Charles McCarry and Robert Stone." —The Wall Street Journal
"Mark Harril Saunders's first novel, Ministers of Fire is a brilliant, exciting and profound spy tale about, among other things, what it means to have faith…. (T)his is a classic CIA novel, thick with political and moral complications…. (A)n incredibly rich reading experience."—The Washington Post
"Veteran cold warriors confront the post-9/11 world in Saunders's impressive first novel, a complex spy thriller.… While the intricate plotting and vivid action scenes are sure to please genre fans, more general readers should also find plenty to enjoy, from Saunders's meticulous prose to his closely observed characterizations."—Publishers Weekly (Starred review)
"Ministers of Fire is no modest first effort at novel writing. It is, to my mind, a disquieting journey into the complex world of post-9/11 political intrigue; and that intrigue is layers deep in this book, embedded in Mark Saunders's gorgeous handling of character, landscape, and language."—Martha Woodroof, "The Spark," WMRA-radio
"I haven't read as good a prologue to a spy thriller all year. And given Mark Harril Saunders' aspirations, I couldn't have expected more.… The first full chapter carries us decades ahead to China where Burling, now in a more ambiguous operation than before, and several other characters, including the missing April's husband, posture and gesture against a Chinese crowd of agents, provocateurs, diplomats, dissidents and military. Saunders does all this quite deftly. More bullets fly, ideas bound against ideas, honor ducks for cover, and hope impales itself on the world of practical intrigue."
— Alan Cheuse, San Francisco Chronicle
"What separates Saunders' work from much of the espionage field comes in two rewarding areas; first, he creates fully fleshed characters, and second, his writing soars above the pedestrian, not only in his characterizations but also in his lucid descriptions of life in contemporary China and his intelligent take on the perils of clandestine efforts in a dangerous world where loyalty can be a liability."
— Jay Strafford, Richmond Times-Dispatch
Swallow Press, 9780804011549, 344pp.
Publication Date: April 12, 2014
About the Author
Mark Harril Saunders was born and raised in the Washington, D.C., area and holds degrees from the University of Pennsylvania and the University of Virginia, where he was a Henry Hoyns Fellow. He has traveled extensively in Europe, the Middle East, the former Soviet Union, and China. His writing has appeared in the VQR, Boston Review, and the Virginian-Pilot, and in 2001 he was awarded the Andrew S. Lytle Prize for fiction from Sewanee Review. He lives in Charlottesville, Virginia, with his wife and three children.