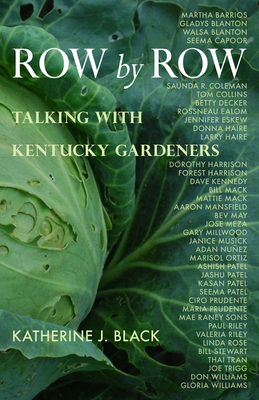 Row by Row
Talking with Kentucky Gardeners
Paperback

* Individual store prices may vary.
Other Editions of This Title:
Hardcover (10/1/2015)
Description
For two and a half years, Katherine J. Black crisscrossed Kentucky, interviewing home vegetable gardeners from a rich variety of backgrounds. Row by Row: Talking with Kentucky Gardeners is the result, a powerful compilation of testimonies on the connections between land, people, culture, and home.

The people profiled here share a Kentucky backdrop, but their life stories, as well as their gardens, have as many colors, shapes, and tastes as heirloom tomatoes do. Black interviewed those who grow in city backyards, who carve out gardens from farmland, and who have sprawling plots in creek bottoms and former pastures. Many of the gardeners in Row by Row speak eloquently about our industrialized food system's injuries to the land, water, and health of people. But more often they talk about what they are doing in their gardens to reverse this course.

Row by Row is as sure to appeal to historians, food studies scholars, and sustainability advocates as it is to gardeners and local food enthusiasts. These eloquent portraits, drawn from oral histories and supplemented by Deirdre Scaggs' color photographs, form a meditation on how gardeners make sense of their lives through what they grow and how they grow it.


Praise For Row by Row: Talking with Kentucky Gardeners…
"This is a loving and necessary book about our future: a possible world of connections with the earth, with the spirit, with the food we eat, and among human beings. Black's sensitive interviews, her narrators' creative lives, and the eloquent photographs are one powerful message of hope."—Alessandro Portelli, author of They Say in Harlan County: An Oral History
"Kate Black's tender portraits of Kentucky gardeners read like good visits with future friends. Although these compelling Kentuckians' backgrounds and ancestries vary widely, they have in common their striking commitment to growing their own food. Why do they garden? Their answers make each story rich and satisfying."—Rona Roberts, host of the Savoring Kentucky blog and author of Classic Kentucky Meals
"Diversity throughout the book highlights our collective connection to food, land and the human experience.… Each tale is just intimate enough for the reader to feel a connection to the gardener, but brief enough to anticipate the next.… Row by Row evolves into a gardening manual, without giving a single instruction. Within the stories are secrets and inspirations that readers can apply to their own gardens, even if they're digging for the first time."—LEO Weekly
"Black's commitment to listening to the oral histories cuts through the romanticism of much garden writing and the polarizing language that can afflict our food conversations in the United States."—Elizabeth S. D. Engelhardt, author of A Mess of Greens: Southern Gender and Southern Food and lead author of Republic of Barbecue: Stories beyond the Brisket
Swallow Press, 9780804011624, 208pp.
Publication Date: October 1, 2015
About the Author
Katherine J. Black has been raising gardens since she was a child. She served as the curator of the University of Kentucky's Appalachian Collection from 1986 until her retirement in 2013.
or
Not Currently Available for Direct Purchase