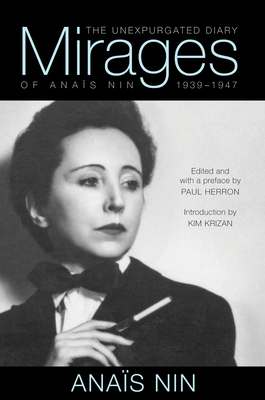 Mirages
The Unexpurgated Diary of Anaïs Nin, 1939–1947
Paperback

* Individual store prices may vary.
Other Editions of This Title:
Hardcover (10/15/2013)
Description
Mirages opens at the dawn of World War II, when Anaïs Nin fled Paris, where she lived for fifteen years with her husband, banker Hugh Guiler, and ends in 1947 when she meets the man who would be "the One," the lover who would satisfy her insatiable hunger for connection. In the middle looms a period Nin describes as "hell," during which she experiences a kind of erotic madness, a delirium that fuels her search for love. As a child suffering abandonment by her father, Anaïs wrote, "Close your eyes to the ugly things," and, against a horrifying backdrop of war and death, Nin combats the world's darkness with her own search for light.

Mirages collects, for the first time, the story that was cut from all of Nin's other published diaries, particularly volumes 3 and 4 of The Diary of Anaïs Nin, which cover the same time period. It is the long-awaited successor to the previous unexpurgated diaries Henry and June, Incest, Fire, and Nearer the Moon. Mirages answers the questions Nin readers have been asking for decades: What led to the demise of Nin's love affair with Henry Miller? Just how troubled was her marriage to Hugh Guiler? What is the story behind Nin's "children," the effeminate young men she seemed to collect at will? Mirages is a deeply personal story of heartbreak, despair, desperation, carnage, and deep mourning, but it is also one of courage, persistence, evolution, and redemption that reaches beyond the personal to the universal.
Praise For Mirages: The Unexpurgated Diary of Anaïs Nin, 1939–1947…
"The celebrated diarist, novelist and electric personality reappears with all the fire of her eroticism in pages untouched by a Bowdler or a Puritan…. Readers will find Nin a most entertaining companion—her multiple simultaneous relationships with men, her gleefully graphic descriptions of sex acts…. In one late entry, Nin complains, mildly: 'My world is so large I get lost in it'; readers will do the same—and gratefully so."—Kirkus Reviews

"Anaïs Nin (1903–1977) is not only one of history's most dedicated diarists, but also a vocal expounder of the idea that keeping a diary enhances your creativity…. Mirages (is) revelatory in its entirety."—Brain Pickings

"Exquisitely nuanced, ornate, delicate and raw, endlessly evocative and provocative. Nobody does it better." —Washington Independent Review of Books

"(Mirages)…is a highly personal account of Nin's inner life and relationships…"—Choice

"The reader benefits from (Nin's) thoughtful, unique perspective on America in the 1940s, as she reinvented herself as a first-class feminist, entrepreneur and a woman with an incredibly erotic daily life, told through sensual and graphic details…. Anaïs Nin's diaries have become the standard for personal diaries only a few writers could match. The curious reader, seeking graphic details of Nin's encounters with intimacy won't be disappointed."—Blog Critics

"This fifth in a series of unexpurgated diary volumes by American novelist and short story and erotica writer Nin (House of Incest; Delta of Venus) covers a period longer than any other volume to date…. Nin's life was steeped in secrecy, lies, passion, longing, and introspection, perhaps the most so during this period. Of the unexpurgated diary volumes thus far, this one benefits the most from full disclosure, illustrating the greater extents of Nin's fragility and ferocity and revealing dimensions of the writer that deeply enrich the reading of her work."— Library Journal

"The fifth volume in the unexpurgated series that is gradually replacing the earlier, sanitized edition of Nin's famous diary begins with her 1939 flight from war-shadowed Paris to New York and tracks her struggles to adapt to America and reconfigure her writing life…. Nin—calculating, theatrical, and prodigious—provides cascading insights into the traumas that made her a 'demon of intensity' determined to turn her life into a literary work of unique psychological revelation."— Booklist
Swallow Press, 9780804011655, 440pp.
Publication Date: September 2, 2015
About the Author
Anaïs Nin (1903–1977) is an iconic literary figure and one of the most notable experimental writers of the twentieth century. As one of the first women to explore female erotica, Nin revealed the inner desires of her characters in a way that made her works a touchstone for later feminist writers. Swallow Press is the premier US publisher of books by and about Nin.
Paul Herron is the founder and editor of Sky Blue Press, which publishes the journal A Café in Space and digital editions of the fiction of Anaïs Nin, as well as a new collection of Nin erotica, Auletris.