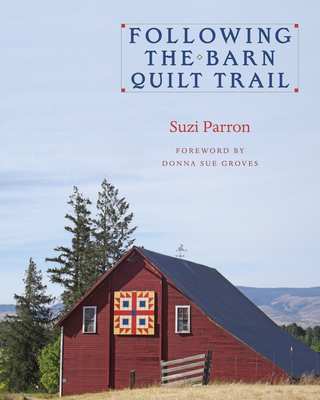 Following the Barn Quilt Trail
Paperback

* Individual store prices may vary.
Description
Suzi Parron, in cooperation with Donna Sue Groves, documented the massive public art project known as the barn quilt trail in her 2012 book Barn Quilts and the American Quilt Trail Movement. The first of these projects began in 2001, when Groves and community members created a series of twenty painted quilt squares in Adams County, Ohio. Since then, barn quilts have spread throughout forty-eight states and several Canadian provinces.
In Following the Barn Quilt Trail, Parron brings readers along as she, her new love, Glen, their dog Gracie, and their converted bus Ruby, leave the stationary life behind. Suzi and Glen follow the barn quilt trail through thirty states across thirteen thousand miles as Suzi collects the stories behind the brightly painted squares. With plentiful color photographs, this endearing hybrid of memoir and travelogue is for quilt lovers, Americana and folk art enthusiasts, or anyone up for a good story.
Praise For Following the Barn Quilt Trail…
"Barn quilts are rural gifts, a bright spot along America's highways and byways. As a quilter myself, the simple sight of a barn quilt has often made my heart smile. We recognize the blocks, they speak to us without words. This book captures everything I love about barn quilts with beautiful photos and captivating details. Where will you spy your next barn quilt?" —Bonnie K. Hunter, Quiltville.com
"Following the Barn Quilt Trail is an engaging coast-to-coast tour in honor of our quilt history. This colorful book is the perfect sequel to Barn Quilts and the American Quilt Trail Movement, as, with Suzi, Glen, Gracie, and Ruby as our navigators, we learn the family stories and connections to the communities of each quilt block. Well done."—Georgia Bonesteel, quiltmaker, author, and educator
"Following the Barn Quilt Trail weaves an enchanting narrative of the places, people, and history behind the growing number of barn quilts dotting the countryside—providing us all with a more meaningful, and more colorful, way to reconnect with our rural heritage. The photos and stories illustrate the affection, creativity, and dedication behind each block, ensuring that you will never look at one—let alone a whole trail—the same way again."—Danae Peckler, National Barn Alliance
"To see a quilt block on a barn is a thrill, but most of us don't get that opportunity very often. Suzi Parron takes us on a journey where we not only get to see the blocks in their beautiful settings, but learn the stories behind them. Following the Barn Quilt Trail is entertaining and the photography is beautiful."—Jenny Doan, Missouri Star Quilt Company
"Anyone who appreciates quilts, quilt blocks or barn quilts … would love Parron's new book."—Greensburg Daily News
Swallow Press, 9780804011693, 272pp.
Publication Date: April 15, 2016
About the Author
Suzi Parron is a quilter, a folk art collector, and an avid kayaker. A native of Florida, Suzi has no stationary home, traveling by RV with her husband, Glen, as she speaks to quilters and civic groups across the country.