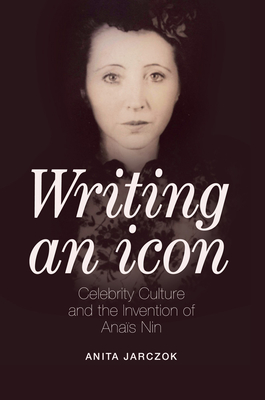 Writing an Icon (Paperback)
Celebrity Culture and the Invention of Anaïs Nin
Swallow Press, 9780804011761, 248pp.
Publication Date: February 15, 2017
Other Editions of This Title:
Hardcover (2/15/2017)
* Individual store prices may vary.
Description
Anaïs Nin, the diarist, novelist, and provocateur, occupied a singular space in twentieth-century culture, not only as a literary figure and voice of female sexual liberation but as a celebrity and symbol of shifting social mores in postwar America. Before Madonna and her many imitators, there was Nin; yet, until now, there has been no major study of Nin as a celebrity figure.

In Writing an Icon, Anita Jarczok reveals how Nin carefully crafted her literary and public personae, which she rewrote and restyled to suit her needs and desires. When the first volume of her diary was published in 1966, Nin became a celebrity, notorious beyond the artistic and literary circles in which she previously had operated. Jarczok examines the ways in which the American media appropriated and deconstructed Nin and analyzes the influence of Nin's guiding hand in their construction of her public persona.

The key to understanding Nin's celebrity in its shifting forms, Jarczok contends, is the Diary itself, the principal vehicle through which her image has been mediated. Combining the perspectives of narrative and cultural studies, Jarczok traces the trajectory of Nin's celebrity, the reception of her writings. The result is an innovative investigation of the dynamic relationships of Nin's writing, identity, public image, and consumer culture.
About the Author
Anita Jarczok teaches American literature and contemporary cultural theory at the University of Bielsko-Biała, Poland. Her research interests include literature, narrative, and gender and cultural studies, and she is the author of many articles and book chapters on Nin, celebrity, and sexuality.
Praise For Writing an Icon: Celebrity Culture and the Invention of Anaïs Nin…
"Jarczok brings Nin scholarship well into the twenty-first century, where it deserves to be."—Elizabeth Podnieks, author of Daily Modernism: The Literary Diaries of Virginia Woolf, Antonia White, Elizabeth Smart, and Anaïs Nin
"[Insightfully explores] questions of [Nin's] self-invention and reception."—Public Books
"Anita Jarczok is an adept guide for the reconsideration of Nin, neither diminishing nor overinflating her subject.…Taking up the perception of Nin as 'a devious manipulator, a liar, and a master of self-promotion,' Jarczok examines the ways in which Nin cultivated her image…However, Jarczok also asks: why shouldn't Nin have been ambitious?"—Times Higher Education
"[The book] is particularly well executed when it comes to parsing Nin's reviews, her self-construction via her diaries and public appearances. Writing an Icon: Celebrity Culture and the Invention of Anaïs Nin serves as a good ref