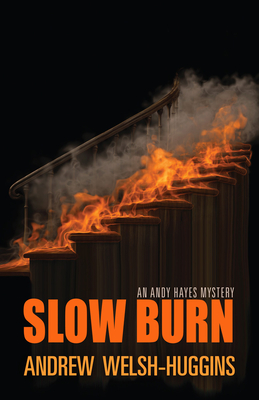 Slow Burn
An Andy Hayes Mystery (Andy Hayes Mysteries)
Paperback

* Individual store prices may vary.
Other Editions of This Title:
Hardcover (4/15/2015)
Description
Almost two years have passed since Aaron Custer supposedly set a fire at a house in Columbus that killed three college students, including the young woman with whom he had argued just hours before. Prosecutors had an ironclad case against Custer, a convicted firebug whose fingerprints were found on the lighter that started the blaze and who quickly pleaded guilty to avoid the death penalty.Private investigator and fallen Ohio State football star Andy Hayes is skeptical when Custer's grandmother asks him to reopen the investigation by finding a mysterious witness who may have seen the real culprit that night. Andy's doubts fade as he uncovers a tangle of motives for the victims' deaths, implicating the state's natural gas fracking boom, drug dealers, and more. But to delve deeper, Andy must once again make amends with his past. TV reporter Suzanne Gregory, a former fiancée, has more information on the Orton Avenue fire than any journalist in town, but asking for her help means reopening old wounds—just as Andy has embarked on a new relationship he's determined not to screw up. As Andy follows Custer's trail down ever-darker paths, he must revisit his past and decide whether he can afford to forfeit his future.
Author and reviewer Bill Osinski called Fourth Down and Out, the first of the Andy Hayes mysteries, "A tall, frosty stein of Middle-American noir, backed with a healthy shot of wry." In this second installment, Andrew Welsh-Huggins draws on real events and current affairs to bring his city to life—warts and all.
Praise For Slow Burn: An Andy Hayes Mystery (Andy Hayes Mysteries)…
"Even more gripping than his debut novel, this second installment firmly establishes Welsh-Huggins as a rising star in the genre. Expect a late—and rewarding—night of addictive reading."—Jay Strafford, Richmond Times-Dispatch

"Andy gets a lot wrong before getting it right, but his dogged digging is fun to follow."—Publishers Weekly

"With snappy dialogue and a hard-boiled protagonist, Slow Burn is a timely, refreshing return to the pulp novels of long ago. It's a wonderful mix of vintage detective work with a modern nod toward Mike Hammer."—Reavis Z. Wortham, author of the Red River mystery series

"Great fun to read…. Grade: A"—Jane Durrell, Cincinnati CityBeat

"Brisk pacing and a convoluted plot make Slow Burn a juicy, satisfying thriller as Andy follows multiple improbable but increasingly convincing leads…a rousing read that will gratify the most jaded of mystery fans, with added interest for those familiar with Columbus."—ForeWord Reviews
Swallow Press, 9780804011785, 312pp.
Publication Date: April 15, 2017
About the Author
Andrew Welsh-Huggins is a reporter for the Associated Press in Columbus, Ohio, and the Nero Award–finalist author of six mysteries from Swallow Press featuring Andy Hayes, a former Ohio State and Cleveland Browns quarterback turned private eye. Welsh-Huggins is also the editor of Columbus Noir (Akashic Books) and his short fiction has appeared in publications including Ellery Queen Mystery Magazine, Mystery Weekly, and Mystery Tribune. His nonfiction book No Winners Here Tonight (Ohio University Press) is the definitive history of the death penalty in Ohio.
or
Not Currently Available for Direct Purchase