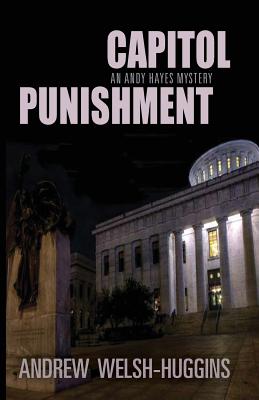 Capitol Punishment (Paperback)
An Andy Hayes Mystery (Andy Hayes Mysteries)
Swallow Press, 9780804011792, 304pp.
Publication Date: April 15, 2017
Other Editions of This Title:
Hardcover, Large Print (4/15/2016)
* Individual store prices may vary.
Description
The job seems simple enough: Reporter Lee Hershey needs protection for a couple of weeks as he pursues the biggest story of his career with all eyes on swing state Ohio in the midst of a presidential election. Columbus private eye Andy Hayes, broke as usual, doesn't have much choice but to sign on, even with his girlfriend falling for the charming journalist.

Then murder strikes at the Statehouse and Andy finds himself partly responsible for the death. With an innocent man behind bars, a mysterious vehicle following Andy around the city, and more lives in danger, the detective has his hands full trying to solve a killing in a poisonous political environment where everyone has a motive for murder and anyone could be the next target.
About the Author
Andrew Welsh-Huggins covers criminal justice issues for The Associated Press in Columbus, Ohio. He is the author of four Andy Hayes mysteries: Fourth Down and Out, Slow Burn, Capitol Punishment, and The Hunt, as well as No Winners Here Tonight: Race, Politics, and Geography in One of the Country's Busiest Death Penalty States and Hatred at Home: Al-Qaida on Trial in the American Midwest.
Praise For Capitol Punishment: An Andy Hayes Mystery (Andy Hayes Mysteries)…
"Hayes' beer isn't the sole heady brew in this fine example of political noir, for which aficionados of smart crime fiction will vote with enthusiasm."—Jay Strafford, Richmond Times-Dispatch
"Ohio politics provide the backdrop for Welsh-Huggins's nicely plotted third mystery featuring disgraced former OSU quarterback Andy Hayes (after 2015's Slow Burn). …Andy must navigate a minefield of powerful personalities with few inhibitions in a cautionary tale that's a perfect read in an election year."—Publishers Weekly
"Capitol Punishment is an entertaining private eye novel…Andy is a likable, cynical, at times humorous, and always witty protagonist with a penchant for trouble."—Mystery Scene
"Capitol Punishment is an entertaining private eye novel…Andy is a likable, cynical, at times humorous, and always witty protagonist with a penchant for trouble." —Mystery Scene
"Convoluted clues are at the heart of this political mystery that roves all around Columbus, including German Village and even Clintonville. It's a great read for this tense political season."
—The Columbus Dispatch
"[Welsh-Huggins] understands the darker places of the human heart. Capitol Punishment is a winner, and if you know Columbus, you will have fun following Andy Hayes through his city ramblings as he tracks the killer."
—Reviewing the Evidence
"Capitol Punishment is an entertaining private eye novel…Andy is a likable, cynical, at times humorous, and always witty protagonist with a penchant for trouble. The narrative includes a bunch of interesting Ohio political history and anecdotes…while never slowing the story." —Mystery Scene