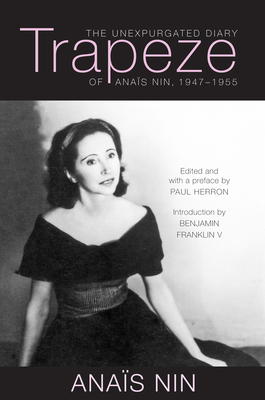 Trapeze (Hardcover)
The Unexpurgated Diary of Anaïs Nin, 1947–1955
Swallow Press, 9780804011815, 376pp.
Publication Date: May 15, 2017
* Individual store prices may vary.
Description
Anaïs Nin made her reputation through publication of her edited diaries and the carefully constructed persona they presented. It was not until decades later, when the diaries were published in their unexpurgated form, that the world began to learn the full details of Nin's fascinating life and the emotional and literary high-wire acts she committed both in documenting it and in defying the mores of 1950s America. Trapeze begins where the previous volume, Mirages, left off: when Nin met Rupert Pole, the young man who became not only her lover but later her husband in a bigamous marriage.

It marks the start of what Nin came to call her "trapeze life," swinging between her longtime husband, Hugh Guiler, in New York and her lover, Pole, in California, a perilous lifestyle she continued until her death in 1977. Today what Nin did seems impossible, and what she sought perhaps was impossible: to find harmony and completeness within a split existence. It is a story of daring and genius, love and pain, largely unknown until now.
About the Author
Anaïs Nin (1903–1977) is an iconic literary figure and one of the most notable experimental writers of the twentieth century. As one of the first women to explore female erotica, Nin revealed the inner desires of her characters in a way that made her works a touchstone for later feminist writers. Swallow Press is the premier US publisher of books by and about Nin.
Paul Herron is the founder and editor of Sky Blue Press, which publishes the journal A Café in Space and digital editions of the fiction of Anaïs Nin, as well as a new collection of Nin erotica, Auletris.
Praise For Trapeze: The Unexpurgated Diary of Anaïs Nin, 1947–1955…
"Nin's diaries still challenge and astonish today because she was utterly daring.…The unexpurgated diaries illuminate the spectacular process of self-mythology for a courageous wife, lover, and artist.…[In Trapeze], striving to reconcile a split existence, Nin finds herself marking down dissatisfactions with each man's shortcomings and tempting fate in thrilling ventures, although she cannot help but behold both with understanding, compassion, and love. Trapezeoffers Nin's solution to such a dilemma: embrace ambivalence. Choose everything, choose both, choose between, and choose all." —World Literature Today
"Trapeze gives us the iconic writer leading a teetering, emotionally jet-fueled existence, torn between her attachment to her husband of decades and her passion for a much younger lover. The intense, intimate portrait of the woman behind the mysterious Nin legend—and all the hunger and charm and deception that comprised this high-wire act of a life—makes addictive reading indeed."—Janet Fitch, author of White Oleander and Paint It Black: A Novel
"Anaïs Nin's emotional, erotic circus was not only a trapeze, but also a high-wire act. This carefully edited presentation of previously unpublished material underscores her insatiable search for impossibly perfect life partners. As has long been established, the most memorable character in Nin's writing is Nin herself."—Philip K. Jason, editor of Anaïs Nin Reader
"Trapeze gives us Anaïs Nin at her best—the Nin who probes various facets of love and tries to capture the intricacies of her relationships, who can be ruthlessly critical of others, but who also exposes her own vulnerabilities."—Anita Jarczok, author of Writing an Icon: Celebrity Culture and the Invention of Anaïs Nin