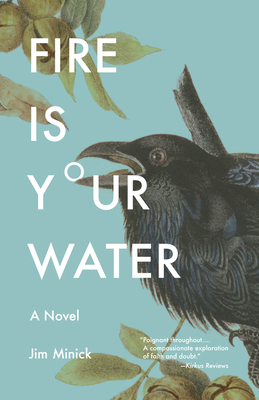 Fire Is Your Water (Hardcover)
Swallow Press, 9780804011846, 352pp.
Publication Date: March 7, 2017
Description
"This belongs at the top of every spring reading list." -- Library Journal starred review
Sacred chants are Ada Franklin's power and her medicine. By saying them, she can remove warts, stanch bleeding, and draw the fire from burns. At age twenty, her reputation as a faith healer defines her in her rural Pennsylvania community. But on the day in 1953 that her family's barn is consumed by flame, her identity as a healer is upended. The heat, the roar of the blaze, and the bellows of the trapped cows change Ada. For the first time, she fears death and -- for the first time -- she doubts God. With her belief goes her power to heal. Then Ada meets an agnostic named Will Burk and his pet raven, Cicero.
About the Author
Jim Minick is the author of five books, including The Blueberry Years, winner of the Best Nonfiction Book of the Year from the Southern Independent Booksellers Association. His work has appeared in Oxford American, Shenandoah, Orion, The Sun, and elsewhere. He teaches at Augusta University and Converse College.
Advertisement