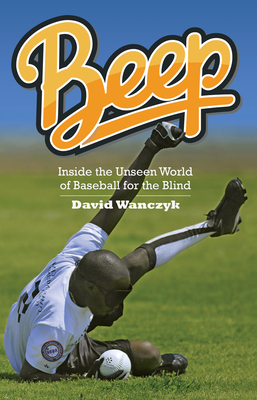 Beep
Inside the Unseen World of Baseball for the Blind
Hardcover

* Individual store prices may vary.
Description
In Beep, David Wanczyk illuminates the sport of blind baseball to show us a remarkable version of America's pastime. With balls tricked out to squeal three times per second, and with bases that buzz, this game of baseball for the blind is both innovative and intense. And when the best beep baseball team in America, the Austin Blackhawks, takes on its international rival, Taiwan Homerun, no one's thinking about disability. What we find are athletes playing their hearts out for a championship.
Wanczyk follows teams around the world and even joins them on the field to produce a riveting inside narrative about the game and its players. Can Ethan Johnston, kidnapped and intentionally blinded as a child in Ethiopia, find a new home in beep baseball, and a spot on the all-star team? Will Taiwan's rookie MVP Ching-kai Chen—whose superhuman feats on the field have left some veterans suspicious—keep up his incredible play? And can Austin's Lupe Perez harness his competitive fire and lead his team to a long-awaited victory in the beep baseball world series?
Beep is the first book about blind baseball.
Praise For Beep: Inside the Unseen World of Baseball for the Blind…
"Wanczyk gets it—that disability is a cultural formation and not a defect. The book offers a great example (much in the manner of early Tom Wolfe) of entering a relatively unknown and essentially closed world and making it entirely compelling and fully realizable for the general reader. It's unusual, witty, and quite needed." —Stephen Kuusisto, author of Planet of the Blind
"In this finely balanced book, we get a contemplative look at this game, but not so contemplative as to be caught up in philosophy at the expense of the excitement and emotion of competition. …Beep is a work of sports reportage, earning a spot on the bookshelf next to insider chronicles of seasons like Molly Knight's The Best Team Money Can Buy or David Halberstam's Summer of '49. But we also have here some fine travel writing, a history of the relatively new game, an exploration of an underrepresented culture, and even a memoir."—Joshua Jackson, Los Angeles Review of Books
"Beep is a fun and funny and supremely humane piece of sportswriting, a reminder of what sports are for. Wanczyk tells a great story, one that's alternately gripping and goofy, that's not only about a particular game and the people that play it, but about why we play games in the first place."—David Roth, writer, VICE Sports and cofounder, The Classical
"[Wanczyk] eschews cliches about athletes overcoming adversity in favor of warts-and-all accounts of the often-obsessive characters who play the game."—Joe Blundo, Columbus Dispatch
"This is a remarkable book on a rather remarkable topic."—Camden Depot
Swallow Press, 9780804011891, 246pp.
Publication Date: March 12, 2018
About the Author
David Wanczyk grew up a Red Sox fan and once gave up twenty-seven runs in an inning before realizing he'd never make it to Fenway Park—or varsity. He's coped with that by writing on novel sports for Salon, Slate, Boston Globe Magazine, Texas Monthly, and other venues. The editor of New Ohio Review, he lives in Athens, Ohio, with his wife, Megan, their daughter, Natalie, their son, Ben, and the family heirloom—an autographed Pedro Martinez hat.
or
Not Currently Available for Direct Purchase