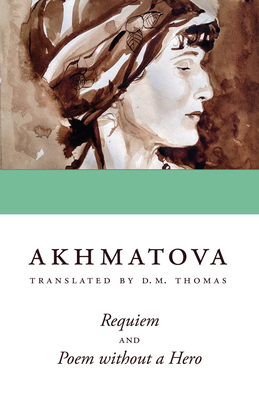 Requiem and Poem Without a Hero (Paperback)
Swallow Press, 9780804011952, 78pp.
Publication Date: March 7, 2018
* Individual store prices may vary.
Description
Anna Akhmatova (1889-1666) is one of Russia's greatest poets, and perhaps the greatest woman poet in the history of Western culture. The two long poems included in this volume are the major works of Akhmatova's majestic maturity. Both express her response to life under the Stalinist Terror: Requiem, a single, heart-rending cry; Poem Without a Hero, a symphonic, highly allusive work linking Stalinist Leningrad with Tsarist Petersburg, whose composition occupied the poet, obsessively, over the last twenty-five years of her life. The achievement of these two masterpieces, under conditions of officially imposed silence and terrible suffering, verifies a prophecy made even before the Revolution by her friend the poet Mandelstam, that she would become "a symbol of Russia's grandeur."
D.M. Thomas, established by three previous volumes of verse as one of the most original and interesting poets now writing in Britain, brings the two poems together for the first time in one volume in English. His version of
Poem Without a Hero
is the first ever complete and full-scale English verse translation. He employs all his poetic talent in uniquely impressive and powerful versions that pay full attention to the kaleidoscopic variety of effects of the originals. His introduction and notes concisely and absorbingly pinpoint the problems facing the English translator of Akhmatova's poetry.
About the Author
Anna Akhmatova (1889-1966) is an iconic figure of twentieth-century Russian literature and one of her era's great poets. Her work has been translated into many languages.