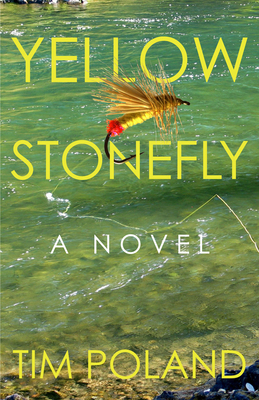 Yellow Stonefly
A Novel
Hardcover

* Individual store prices may vary.
Description
Finalist, 2019 Weatherford Award (Fiction) • A Southern Independent Bookseller Association "Okra Pick"
In her day job as a nurse, Sandy Holston cares for the elderly and the sick, even as she is haunted by her own questionable past and the deaths that marked it. Her true self resides among the mountain trout streams of her Appalachian home, where she wields her fly rod with uncanny accuracy as her life plays out along a tight line between herself and a fish on the other end.
But then the Ripshin River threatens to flood. Sandy can no longer deny that dementia has taken hold in James Keefe, her older sometimes-lover. An elusive eastern mountain lion appears. And when a predatory survivalist keeping a solitary camp by the headwaters arrives, he poses the biggest threat of all. His merciless pursuit of the lion brings him ever closer to Sandy, triggering her final, tragic attempt to preserve her connections with Keefe, the headwaters, and all that she has, at last, come to love.
In Yellow Stonefly—a rare fly fishing novel with a female protagonist—Tim Poland weaves suspense and introspection into an unforgettable read, at once mournful and bracing.
Praise For Yellow Stonefly: A Novel…
"Although fly fishing informs and shapes Yellow Stonefly and its characters, the book is above all about love and death, anger, redemption, and finding a family and a home. In Poland's hands, the fishing scenes deftly reflect Sandy and James's abiding senses of ethicality and balance—the very things his plot so suspensefully disrupts. Poland impresses me as a profoundly patient writer, delicately building the layers of the novel with understanding and insight. Sandy and James movingly navigate complicated lives, especially as they are caught in the rising tide of James's dementia."—Robert DeMott, author of Angling Days: A Fly Fisher's Journals
"Poland displays his best writing here (near the end), with the last chapters containing some of the most suspenseful, engaging action, leaving readers wholly captivated. Undeniably, a sign of compelling literature is its staying power, how the story, its characters, and its philosophical needling linger within the reader's mind long after the work is read. Yellow Stonefly is one such compelling novel."—Appalachian Journal
"We are no longer surprised when fly fishing turns up as a vital thread in a novel as good as Tim Poland's Yellow Stonefly, nor should we be. The sport illuminates the intricacies of both human and wild nature. Poland's compelling and deftly crafted tale of an expert angler's loves, losses, and perils exposes the impulses and appetites of a remarkable cast of human, non-human, and inhuman characters, not the least of whom is the river they must alternately fish and flee."—Paul Schullery, author of The Fishing Life: An Angler's Tales of Wild Rivers and Other Restless Metaphors
"In evocative, elegant prose, Tim Poland brings into fine detail the particulars of place and the characters who cascade and swirl with the stream they live near. Like an artfully tied fly, this novel is full of craft, color, and anticipation for the pleasure it brings."—Rick Van Noy, author of Sudden Spring: Stories of Adaptation in a Climate-Change South
"Tim Poland's Yellow Stonefly has quick action, lively characters, and rich description, but even more striking is what lies underneath all of it: a narrative confidence, subtle yet strong, that lets you know you're in the hands of a master storyteller."—Jim Minick, author of Fire Is Your Water
Swallow Press, 9780804012072, 272pp.
Publication Date: November 8, 2018
About the Author
Tim Poland lives near the Blue Ridge Mountains in southwestern Virginia, where he is professor emeritus of English at Radford University. His fiction, poetry, and nonfiction have appeared widely in various literary magazines, and he is the author of the novel The Safety of Deeper Water.