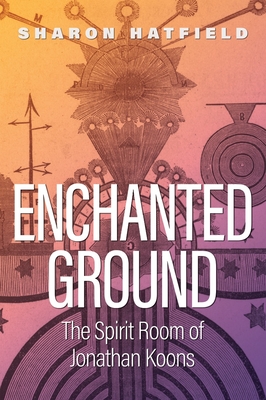 Enchanted Ground
The Spirit Room of Jonathan Koons
Hardcover

* Individual store prices may vary.
Description
In Enchanted Ground, Sharon Hatfield brings to life the true story of a nineteenth-century farmer-turned-medium, Jonathan Koons, one of thousands of mediums throughout the antebellum United States. In the hills outside Athens, Ohio, Koons built a house where it was said the dead spoke to the living, and where ancient spirits communicated the wisdom of the ages. Curious believers, in homespun and in city attire, traveled from as far as New Orleans to a remote Appalachian cabin whose marvels would rival any of P. T. Barnum's attractions.
Yet Koons's story is much more than showmanship and sleight of hand. His enterprise, not written about in full until now, embodied the excitement and optimism of citizens breaking free from societal norms. Reform-minded dreamers were drawn to Koons's seances as his progressive brand of religion displaced the gloomy Calvinism of previous generations. As heirs to the Second Great Awakening, which stretched from New York State to the far reaches of the Northwest Territory, the curious, the faithful, and Koons himself were part of a larger, uniquely American moment that still marks the cultural landscape today.
Praise For Enchanted Ground: The Spirit Room of Jonathan Koons…
"This is a marvelous book. It reads like a novel or a screenplay but also functions as a prism that opens up into dozens of other important aspects of nineteenth-century American religion: spiritualism, Johnny Appleseed, Swedenborgianism, atheism, social reform, women's rights, psychometry, and so on. Perhaps most significantly of all, the author's rare combination of humanistic sympathy, intellectual generosity, and healthy doubt is a model of what this kind of historiography can be."—Jeffrey J. Kripal, author of Secret Body: Erotic and Esoteric Currents in the History of Religions

"The work of Jonathan Koons, and, indeed, midwestern Spiritualism in general, has often been overlooked, so Enchanted Ground is a welcome contribution to the field. The book has many strengths, not least of which are its evocative descriptions. Hatfield's skill as a researcher, writer, and story-teller make this book appropriate for both scholarly and general readers."—Nova Religio

"An unbiased, rich story that situates the historic and consequential acts of 'the Venerable Jonathan Koons' and the events that took place in southeast Ohio in wider modern spiritualist and reform movement contexts. Hatfield clearly illustrates the comfort, hope, and sense of community Koons's supporters found in his séances, imaginative stories, and ostensible ability to connect the living with the dead."—Brianna Treleven, Ohio History

"Sharon Hatfield has made a painstaking examination of Koons's life and career. A fascinating snapshot of the Spiritualist movement in its infancy."—Tom Ruffles, Journal of Scientific Exploration

"Hatfield offers a solid biography of one of the most famous and influential spiritualists of the nineteenth century…. Those interested in the hope and optimism spiritualism engendered will enjoy Hatfield's biographical appreciation of a fascinating figure."—Journal of Parapsychology
Swallow Press, 9780804012089, 360pp.
Publication Date: November 8, 2018
About the Author
Sharon Hatfield is an award-winning journalist and nonfiction writer. Her interest in Appalachian letters and history led to her writing Never Seen the Moon: The Trials of Edith Maxwell and coediting An American Vein: Critical Readings in Appalachian Literature. She lives in Athens, Ohio, with her husband.
or
Not Currently Available for Direct Purchase