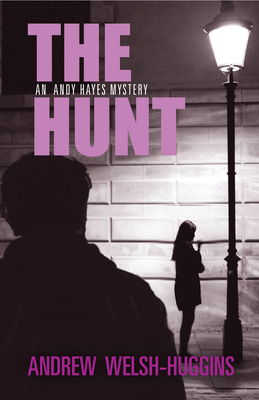 The Hunt
An Andy Hayes Mystery (Andy Hayes Mysteries)
Paperback

* Individual store prices may vary.
Other Editions of This Title:
Hardcover (4/15/2017)
Description
As a serial killer stalks prostitutes in Columbus, Ohio, a distraught brother asks private investigator Andy Hayes to find his sister before it's too late. In a deadly race against time, Andy soon learns he's not the only person hunting Jessica Byrnes, but he may be the only one who wants her alive. Byrnes hasn't been seen in weeks following a downward slide that started as a runaway teenager and may have ended permanently on the streets.
Assisting Andy is ex-prostitute Theresa Sullivan. She now works at St. Andrew's, the mission church run by Andy's pal the Reverend Roy Roberts, who is less than keen on Theresa reliving the memories that nearly killed her. A local congresswoman making headlines with her work against human trafficking puts pressure on Andy to solve the case, while the police don't want him near their exhaustive search for the murderer. At the same time, Andy's hunt for Jessica exposes the buying and selling of trafficked women across the region. Looming over Andy's increasingly desperate search is the shadow of his most dangerous adversary yet.
Praise For The Hunt: An Andy Hayes Mystery (Andy Hayes Mysteries)…
"The author has crafted a fine procedural based on human trafficking, and it's a pleasure to watch his PI, Columbus, Ohio–based Andy Hayes, go to work. …Welsh-Huggins has a way with language…[He] is an Associated Press reporter, and the urge to bring the news is an unkillable one."—Booklist

"Welsh-Huggins's strong fourth Andy Hayes mystery finds the Columbus, Ohio, PI still struggling with personal relationships but a bit more confident as an investigator.…Welsh-Huggins handles equally well the complex motivations of politicians, social workers, cops—those who are supposed to help victims—and of those who prey on them, such as pimps and johns. This series gets better with each book."—Publishers Weekly

"Intelligently plotted, with prose as tight as a garrote, a strong stamp of place and a multidimensional gallery of characters, The Hunt excavates the filthy underworld of major cities. Call it Rust Belt noir. Call it a hybrid of whodunit and thriller. But above all, call it splendid — and this talented author's best yet."—Jay Strafford, Richmond Times–Dispatch

"Andrew Welsh-Huggins is the real deal. In The Hunt, he gives us sharp dialogue, characters flawed but trying their damndest, settings you can feel and breathe, wrapped by a satisfying story. A welcome addition to the private eye genre."—S.J. Rozan, winner of the Private Eye Writers of America lifetime achievement award

"Private eye Andy Hayes, a man with a good many sins on his soul but a strong sense of what's right, takes on the search for a young prostitute gone missing into the violent and sordid world of illicit street sex, with a serial killer on the loose. In the best hard-boiled tradition, Hayes travels the mean streets to expose not only the crime and depravity in the city's underbelly but the complicity of respectable society with the exploitation that takes place there."—Con Lehane, author of Murder at the 42nd Street Library and Murder in the Manuscript Room
Swallow Press, 9780804012096, 264pp.
Publication Date: September 19, 2018
About the Author
Andrew Welsh-Huggins is a reporter for the Associated Press in Columbus, Ohio, and the Nero Award–finalist author of six mysteries from Swallow Press featuring Andy Hayes, a former Ohio State and Cleveland Browns quarterback turned private eye. Welsh-Huggins is also the editor of Columbus Noir (Akashic Books) and his short fiction has appeared in publications including Ellery Queen Mystery Magazine, Mystery Weekly, and Mystery Tribune. His nonfiction book No Winners Here Tonight (Ohio University Press) is the definitive history of the death penalty in Ohio.