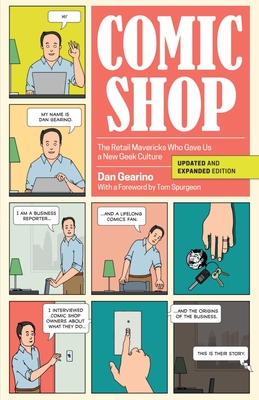 Comic Shop
The Retail Mavericks Who Gave Us a New Geek Culture
Paperback

* Individual store prices may vary.
Other Editions of This Title:
Hardcover (10/13/2017)
Description
The modern comic book shop was born in the early 1970s. Its rise was due in large part to Phil Seuling, the entrepreneur whose direct market model allowed shops to get comics straight from the publishers. Stores could then better customize their offerings and independent publishers could access national distribution. Shops opened up a space for quirky ideas to gain an audience and helped transform small-press series, from Teenage Mutant Ninja Turtles to Bone, into media giants.
Comic Shop is the first book to trace the history of these cultural icons. Dan Gearino brings us from their origins to the present-day, when the rise of digital platforms and a changing retail landscape have the industry at a crossroads. When the book was first published in 2017, Gearino had spent a year with stores around the country, following how they navigated the business. For this updated and expanded paperback edition, he covers the wild retail landscape of 2017 and 2018, a time that was brutal for stores and rich for comics as an art form.
Along the way he interviews pioneers of comics retailing and other important players, including many women; top creators; and those who continue to push the business in new directions. A revised guide to dozens of the most interesting shops around the United States and Canada is a bonus for fans.
Praise For Comic Shop: The Retail Mavericks Who Gave Us a New Geek Culture…
"Gives a fascinating glimpse at the challenges and pressures that store owners have to face in this hybrid retail business.… [Gearino] makes the case that the modern pop culture era we're living in wouldn't exist without the rise of comic book stores."—Evan Narcisse, io9

"Dan Gearino offers a more compelling and complex place for the comic shop in popular culture by demonstrating how entrepreneurs and distribution channels have reshaped that commercial space over the last 50 years.…Gender issues feature heavily in the text, and this offers scholars…a point of consideration lacking from many other outlets.…Above all, this work personalizes the comic shop as a collection of people who, through emotion and personal desire, embrace an evolving and unstable place in the commercial world of pop culture."—PopMatters

"[Gearino] has clearly done his homework.…Comic Shop is an essential read for anyone interested in the mechanics and money of the comic industry, but I was most amazed to learn that, beyond Carol Kalish, there was another woman behind the formation of the direct market. That's not a story that's often been told."—Johanna Draper Carlson, Comics Worth Reading

"There are precious few prose books that have elucidated the quirkiness of the comics industry more than Comic Shop.…In clear and compelling language, Gearino lays out how comics specialty shops were born in the 1970s and '80s, how they flew too close to the sun in the '90s, and how they've managed to endure decades into the Information Age."—Abraham Riesman, Vulture

"This is essential reading for anyone who wants to understand comics in the U.S. Dan Gearino has put together a riveting account of the history of the comics market, and even reveals the forgotten key women who were essential to its creation. Comic Shop is a fascinating page turner." —Heidi MacDonald, editor, The Beat
Swallow Press, 9780804012133, 300pp.
Publication Date: May 28, 2019
About the Author
Dan Gearino is a lifelong comics reader with tastes that swing from the classic Legion of Super-Heroes to the work of Michel Rabagliati. Formerly a business reporter for the Columbus Dispatch, he has won national recognition for his work and now covers clean energy for InsideClimate News. He lives in Columbus, Ohio, near his home store, The Laughing Ogre, with his wife and two daughters.
or
Not Currently Available for Direct Purchase