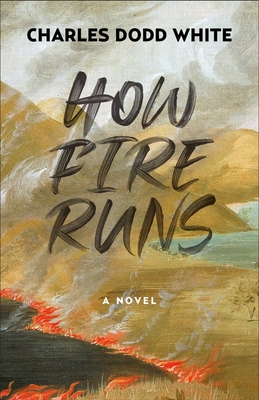 How Fire Runs
A Novel
Paperback

* Individual store prices may vary.
Description
A chilling, timely reminder of the moral and human costs of racial hatred.
What happens when a delusional white supremacist and his army of followers decide to create a racially pure "Little Europe" within a rural Tennessee community? As the town's residents grapple with their new reality, minor skirmishes escalate and dirty politics, scandals, and a cataclysmic chain of violence follows. In this uncanny reflection of our time, award-winning novelist Charles Dodd White asks whether Americans can save themselves from their worst impulses and considers the consequences when this salvation comes too late.
Praise For How Fire Runs: A Novel…
"No novel could be more timely than this suspenseful thriller that follows a delusional white supremacist who gathers an army of supporters who seek to turn an East Tennessee community into a bastion of his racist precepts."—Appalachian Mountain Books, April 4, 2021

"White imbues his prose with deep compassion and finely honed storytelling. These skills were already on display in White's 2018 novel, In the House of Wilderness, but here they accelerate, fueled by powerful confrontation with the violent racism and environmental hazards that endanger our current national atmosphere. White holds nothing back, and these scenes spark and blaze."—Emily Choate, Chapter 16

"Although a deftly crafted work of fiction, How Fire Runs offers a sobering perspective on America today. A compelling and original work… especially and unreservedly recommended for community, college, and university library Contemporary Literary Fiction collections."—Midwest Book Review

"How Fire Runs in saner times might read as a cautionary tale against the lure of authoritarianism and racist agitators. As it stands, however, the novel instead reads like reportage from the front lines of an increasingly polarized and frightening political and social landscape… White delves headfirst into the difficult questions of how a community must respond to a threat anathema to what they believe."—Jim Coby, North Carolina Literary Review

"Both action-packed and introspective, How Fire Runs is a timely literary thriller that is hard to put down. Charles Dodd White continues to prove himself as one of the best prose stylists of Appalachian literature in a novel that transcends region to become raw commentary on this volatile moment in America."—Silas House, author of Southernmost
Swallow Press, 9780804012287, 272pp.
Publication Date: October 13, 2020
About the Author
Charles Dodd White is the author of four novels, including two from Swallow Press: How Fire Runs and In the House of Wilderness. He has received the Appalachian Book of the Year Award and the Chaffin Award for his fiction. He lives in Knoxville, Tennessee, where he is an associate professor of English at Pellissippi State Community College.