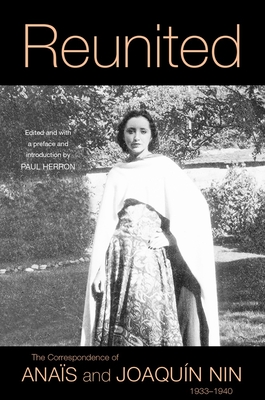 Reunited (Paperback)
The Correspondence of Anaïs and Joaquín Nin, 1933–1940
Swallow Press, 9780804012300, 296pp.
Publication Date: May 5, 2020
Other Editions of This Title:
Hardcover (3/31/2020)
* Individual store prices may vary.
Description
The incestuous affair between the writer Anaïs Nin and her father, the pianist-composer Joaquín Nin, is well documented in the volume of her unexpurgated diary published under the title Incest. What has been missing from that account is Joaquín's point of view. Reunited: The Correspondence of Anaïs and Joaquín Nin, 1933–1940 presents more than one hundred intimate communications between these two artistic geniuses, revealing not only the dynamics of their complex relationship but also why Anaïs spent her life in a never-ending battle to feel loved, appreciated, and understood.
Reunited collects the correspondence between Anaïs and Joaquín just before, during, and after the affair, which commenced in 1933, twenty years after he had abandoned his ten-year-old daughter and the rest of his family. These letters were long believed to have been destroyed and lost to history. In 2006, however, a folder containing Joaquín's original letters to his daughter was discovered in Anaïs's Los Angeles home, along with a second folder of her letters to him. Together, these letters tell the story of an absent father's attempt to reconnect with his adult daughter and how that rapprochement quickly turned into an illicit sexual relationship.
About the Author
Anaïs Nin (1903–1977) is an iconic literary figure and one of the most notable experimental writers of the twentieth century. As one of the first women to explore female erotica, Nin revealed the inner desires of her characters in a way that made her works a touchstone for later feminist writers. Swallow Press is the premier US publisher of books by and about Nin.
Paul Herron is the founder and editor of Sky Blue Press, which publishes the journal A Café in Space and digital editions of the fiction of Anaïs Nin, as well as a new collection of Nin erotica, Auletris.
Praise For Reunited: The Correspondence of Anaïs and Joaquín Nin, 1933–1940…
"The sharp focus of this volume on Nin and her father results in a powerful narrative of an ambiguous relationship and a disturbing experiment that went wrong. Reunited is a must for readers familiar with Anaїs Nin's works, but it will be equally interesting to those who have never read Nin before."—Anita Jarczok, author of Writing an Icon: Celebrity Culture and the Invention of Anaїs Nin