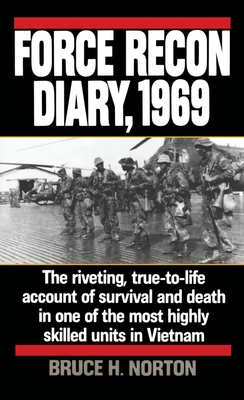 Force Recon Diary, 1969: The Riveting, True-To-Life Account of Survival and Death in One of the Most Highly Skilled Units in Vietnam (Mass Market Paperbound)
The Riveting, True-To-Life Account of Survival and Death in One of the Most Highly Skilled Units in Vietnam
Ballantine Books, 9780804106719, 272pp.
Publication Date: March 31, 1991
* Individual store prices may vary.
or
Not Currently Available for Direct Purchase
Description
The riveting, true-to-life account of survival, heroism and death in the elite Marine 3d Force Recon unit, one of one two Marine units to receive the Valorous Unit Citation during the Vietnam War. Doc Norton, leader of 3d Force Recon, recounts his team's experiences behind enemy lines during the tense patrols, sudden ambushes and acts of supreme sacrifice that occurred as they gathered valuable information about NVA operations right from the source.
About the Author
Major Bruce H. Norton, USMC (Ret.), has been a combat veteran, a career Marine infantry officer, a military museum director, and an adjunct military history professor, and is an award-winning author of numerous books on and about the United States Marines. Serving as a navy corpsman from 1967 to 1972, he participated in more than thirty long-range reconnaissance patrols from 1968 to 1970. Norton was honorably discharged from the navy in 1972, and three days later was enrolled in the Marine Platoon Leaders Class (PLC) Candidate at the College of Charleston, where he earned a BA in U.S. history in 1974. Commissioned a lieutenant of Marines upon graduation, he performed duties as an infantry platoon leader, deep reconnaissance platoon leader, rifle company commander, operations and training officer, battalion executive officer, and various joint staff positions. Following his retirement in 1992, after twenty-four years of military service, he earned a master's degree in military sciences before becoming the director of the MCRD San Diego Command Museum in California. While there, he also taught military history courses at the University of San Diego. In 1996, he received the Brigadier General Robert L. Denig Memorial Distinguished Service Award, presented to him by the United States Marine Corps' Combat Correspondents Association for his contributions as an author and Marine Corps historian. In 2005, he arrived at Quantico and wrote doctrine for the Marine Corps.
Advertisement