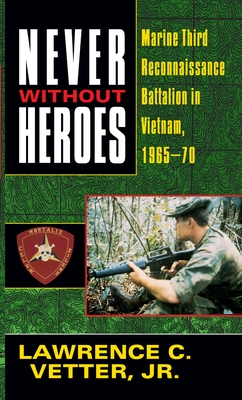 Never Without Heroes: Marine Third Reconnaissance Battalion in Vietnam, 1965-70 (Mass Market Paperbound)
Marine Third Reconnaissance Battalion in Vietnam, 1965-70
Ballantine Books, 9780804108072, 384pp.
Publication Date: June 30, 1996
* Individual store prices may vary.
or
Not Currently Available for Direct Purchase
Description
FOUR CONGRESSIONAL MEDALS OF HONOR,
THIRTEEN NAVAL CROSSES,
SEVENTY-TWO SILVER STARS . . .
In four and a half years in Vietnam, the Marines of the Third Reconnaissance Battalion repeatedly penetrated North Vietnamese and Vietcong sanctuaries by foot and by helicopter to find enemy forces, learn the enemy's intentions, and, when possible, bring deadly fire down on his head. Heavily armed, well-camouflaged teams of six and eight men daily exposed themselves to overwhelming enemy forces so that other Marines would have the information necessary to fight the war.
It's all here: grueling, tense, and deadly recon patrols; insertions directly into NVA basecamps; last-stand defenses in the wreckage of downed helicopters; pursuit by superior North Vietnamese forces; agonizing deaths of men who valiantly put their lives on the line.
NEVER WITHOUT HEROES is the first book to recount the story of a Marine reconnaissance battalion in Vietnam from the day of its arrival to its withdrawal. In Vietnam, Larry Vetter served as a platoon leader in Third Recon Battalion. He supplements his own recollections with Marine Corps records, exhaustive interviews with veterans, and correspondence to capture the bravery, and self-sacrifice of war.
About the Author
Lawrence C. Vetter, Jr. is the author of Never Without Heroes: Marine Third Reconnaissance Battalion in Vietnam, 1965-70 and Blood on the Lotus. Vetter served with the 3rd Reconnaissance Battalion in Vietnam for seven months in 1966. He wrote Never Without Heroes to tell the story of the 3rd Reconnaissance Battalion, 3rd Marine Division, during its time in Vietnam from 1965 until 1969 in an effort to reflect "the best of American heroism."
Advertisement