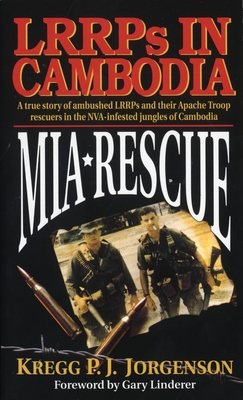 MIA Rescue (Mass Market Paperback)
Ballantine Books, 9780804109802, 272pp.
Publication Date: May 1, 1996
* Individual store prices may vary.
or
Not Currently Available for Direct Purchase
Description
"This is an inspiring story of courage and sacrifice--one hell of an exciting true war story "
--Kenn Miller
Author of Tiger the Lurp Dog
On 17 June 1970, in Mondol Kiri Province, Cambodia, the five men of Long-Range Reconnaissance Patrol (LRRP) Team 5-2 were about to halt for the day. Night was coming, the skies were dark, and so were the men's thoughts--they'd just found freshly dug NVA bunkers inside a scrub-brush tree line and their position was not secure.
As they carefully searched for better night lager, they learned the hard way that they had walked into an ambush kill zone: NVA fire quickly downed two men and wounded two others. In minutes, Team 5-2 had been transformed from the hunters to the hunted. They had no radio comms with their headquarters and had just two rifles and fifteen magazines of ammunition.
Two men were down, but the team was not out. MIA RESCUE is the story of Team 5-2 and the heroic and ultimately successful attempts to rescue them despite extraordinarily bad weather and an angry and aware enemy.
"Seldom can an author stimulate emotions, from the taste of fear to sweaty palms to the feeling of relief when the mission is over, but Jorgenson does and much more. If the reader was never in combat, he will feel like a Nam vet when he finishes this book."
--Jerry Boyle
Author of Apache Sunrise.
About the Author
Kregg P. Jorgenson served in Vietnam with Company H, Rangers, and later with Apache Troop, the 1st Squadron of the 9th Cavalry. He is a graduate of the University of Maryland and City University of Seattle. He lives in the Pacific Northwest.
Advertisement