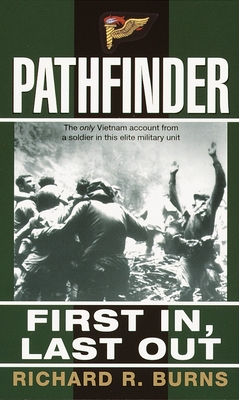 Pathfinder: First In, Last Out: A Memoir of Vietnam (Mass Market Paperbound)
First In, Last Out: A Memoir of Vietnam
Ballantine Books, 9780804116022, 416pp.
Publication Date: February 26, 2002
* Individual store prices may vary.
or
Not Currently Available for Direct Purchase
Description
December 1967: Richard Burns had just arrived in Vietnam as part of the fourteen-man 101st Pathfinder Detachment. Within just one month, during a holiday called Tet, the Communists would launch the largest single attack of the war--and he would be right in the thick of it. . . .
In Vietnam, Richard Burns operated in live-or-die situations, risking his life so that other men could keep theirs. As a Pathfinder--all too often alone in the middle of a hot LZ--he guided in helicopters disembarking troops, directed medevacs to retrieve the wounded, and organized extractions. As well as parachuting into areas and supervising the clearing of landing zones, Pathfinders acted as air-traffic controllers, keeping call signs, frequencies, and aircraft locations in their heads as they orchestrated takeoffs and landings, often under heavy enemy fire.
From Bien Hoa to Song Be to the deadly A Shau Valley, Burns recounts the battles that won him the Silver Star, Bronze Star, Purple Heart, and numerous other decorations. This is the first and only book by a Pathfinder in Vietnam . . . or anywhere else.
About the Author
Richard C. Burns retired from the army as a master sergeant, E-8. He completed two combat tours in Vietnam, serving as a Pathfinder with the 101st Airborne Division and the 1st Air Cavalry Division. He conducted Pathfinder operations for infantry and recon units, supported an element of Special Forces, and was attached to the 1st Vietnamese Airborne Division. After a stint as a recruiter in his native New England, he spent the bulk of his twenty-year military career in Special Forces. His training includes Pathfinder Course, Jumpmaster Course, Vietnam (MACV) Recondo School, and Special Forces Qualification Course (SFQC): Light and Heavy Weapons. He has received numerous decorations, including the Silver Star, Bronze Star, two Air Medals, and the Purple Heart. Richard Burns has two children and lives with his wife in Gainesville, Florida. He has written many articles on elite military units and is a columnist and staff writer for Behind the Lines magazine.
Advertisement