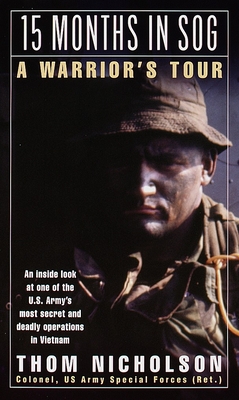 15 Months in Sog: A Warrior's Tour (Mass Market Paperbound)
A Warrior's Tour
Presidio Press, 9780804118729, 288pp.
Publication Date: June 28, 1999
* Individual store prices may vary.
or
Not Currently Available for Direct Purchase
Description
"When we cross the border: no ID, and it's kiss yourself good-bye if Charlie gets ahold of you." In Vietnam, the Military Assistance Command's Studies and Observations Group (MACV-SOG) fielded small recon teams in areas infested with VC and NVA. Because SOG operations suffered extraordinary casualties, they required extraordinary soldiers. So when Capt. Thom Nicholson arrived at Command and Control North (CCN) in Da Nang, SOG's northernmost base camp, he knew he was going to be working with the cream of the crop. As commander of Company B, CCN's Raider Company, Nicholson commanded four platoons, comprising nearly two hundred men, in some of the war's most deadly missions, including ready-reaction missions for patrols in contact with the enemy, patrol extractions under fire, and top-secret expeditions "over the fence" into Laos, Cambodia, and North Vietnam. Colonel Nicholson spares no one, including himself, as he provides a rare glimpse into the workings of one of the military's most carefully concealed reconnaissance campaigns.
About the Author
Thom Nicholson was born in Springfield, Missouri, and grew up in northern Arkansas and southwest Missouri. After graduating from the Missouri School of Mines, he worked briefly in a uranium mine in New Mexico and then entered the U.S. Army. He served as a Special Forces officer in Vietnam in 1966, as an A-team executive officer, and, in 1969, as a Raider Company commander for CCN, MACV-SOG. After being discharged, he joined the U.S. Army Reserve and completed his career in staff and command assignments with special operations and training commands. In 1996, with more than thirty years commissioned service, he retired at the rank of colonel. As a civilian, Mr. Nicholson was a registered professional engineer. He received an M.B.A. from Pepperdine University and graduated from National Defense University and the U.S. Army Command and General Staff School. After military and civilian retirement, he started writing novels, many about the Civil War and the American West. He and his wife, Sandra, have five children.
Advertisement