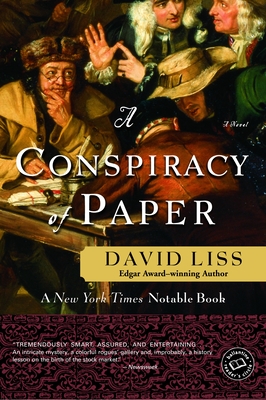 A Conspiracy of Paper
A Novel (Benjamin Weaver #1)
Paperback

* Individual store prices may vary.
Other Editions of This Title:
Audio Cassette, Abridged, Abridged (2/1/2000)
Hardcover (9/1/2001)
Description
Benjamin Weaver, a Jew and an ex-boxer, is an outsider in eighteenth-century London, tracking down debtors and felons for aristocratic clients. The son of a wealthy stock trader, he lives estranged from his family—until he is asked to investigate his father's sudden death. Thus Weaver descends into the deceptive world of the English stock jobbers, gliding between coffee houses and gaming houses, drawing rooms and bordellos. The more Weaver uncovers, the darker the truth becomes, until he realizes that he is following too closely in his father's footsteps—and they just might lead him to his own grave. An enthralling historical thriller, A Conspiracy of Paper will leave readers wondering just how much has changed in the stock market in the last three hundred years. . . .
Praise For A Conspiracy of Paper: A Novel (Benjamin Weaver #1)…
"Tremendously smart, assured, and entertaining . . . An intricate mystery, a colorful rogues' gallery and, improbably, a history lesson on the birth of the stock market."
—Newsweek

"THE PLOT DRAWS YOU IN FROM PAGE TO PAGE. . . . An evocation of English history that you can happily get lost in for days."
—CHRISTOPHER LEHMANN-HAUPT
The New York Times

"REMARKABLE . . . ENGAGING . . . The first stock market crash in the English-speaking world is about to burst, and a whole way of life is about to burst with it."
—The New York Times Book Review

"A VORTEX OF STOCK FRAUD AND MURDER . . . [A] GENRE-STRETCHING FIRST NOVEL."
—Time

"HIGHLY ENTERTAINING . . . FIENDISHLY INTRICATE . . . Compares favorably with An Instance of the Fingerpost."
—Kirkus Reviews (starred review)

"A tale of eighteenth-century finance, murder, and religion that is a remarkable debut and a thoroughly satisfying novel."
—ARTHUR GOLDEN
Author of Memoirs of a Geisha

"An old-fashioned detective story, with London's teeming streets and taverns as its backdrop. . . . An artfully constructed potboiler: the sort of thing that would make a good 'Mystery!' series on PBS."
—The New Yorker

"A Conspiracy of Paper is exciting, intelligent, and witty—a rare combination in historical novels. It is rich in intriguing detail and peopled with fascinating characters. Recommended enthusiastically."
—JOHN JAKES
Author of American Dreams

"A well-researched and highly entertaining historical mystery . . . [A] tale of financial skullduggery and multiple murder . . . Conveyed in vivid extended scenes characterized by crisp dialogue and a keen sense of the ways in which character reveals itself . . . The very model of a modern historical mystery."
—Kirkus Reviews (starred review)

"Terrific . . . Set in a vividly realized eighteenth-century London . . . Although a financial boom fueled by a new economy or a personal struggle with ethnic identity may seem awfully contemporary, Liss keeps us firmly in another time. . . . The book crackles with period detail, yet the immense research never shows. . . . One can only hope that Liss isn't finished with Benjamin Weaver."
—Booklist

Ballantine Books, 9780804119122, 480pp.
Publication Date: January 30, 2001
About the Author
David Liss was born in 1966 and grew up in south Florida. He is currently a doctoral candidate in the English department at Columbia University, where he is completing his dissertation on how the mid-eighteenth-century novel reflects and shapes the emergence of the modern idea of personal finance. He has given numerous conference papers on his research and has also published on Henry James. He has received several awards for his work, including the Columbia President's Fellowship, an A. W. Mellon Research Fellowship, and the Whiting Dissertation Fellowship. He holds an M.A. from Georgia State University and a B.S. from Syracuse University. Liss lives in New York City with his wife and can be reached via his Web site, www.davidliss.com