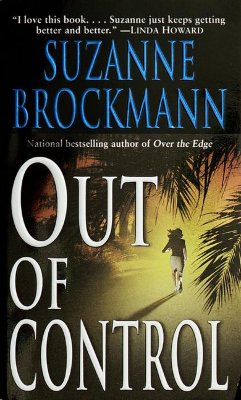 Out of Control (Troubleshooters #4) (Mass Market Paperbound)
Ballantine Books, 9780804119719, 480pp.
Publication Date: February 26, 2002
Description
Bestselling author Suzanne Brockmann knows how to push the limits of romantic suspense to new, breathtaking heights. Potent, gripping, and explosive, OUT OF CONTROL is a roller coaster ride of a novel- as a single act of loyalty becomes a desperate struggle for survival. . . .

Savannah von Hopf has no choice. To save her uncle's life, she goes in search of Ken "WildCard" Karmody, a guy she barely knew in college who is now a military operative. She must convince him to help her deliver a cache of ransom money into the hands of terrorists halfway around the world. What she doesn't expect is to end up in WildCard's arms before she can even ask for his help. WildCard has always had a soft spot for beautiful women. But when he discovers Savannah's hidden agenda, he is determined to end the affair. But Savannah is bound for Indonesia with or without his protection, and he can't just walk away. When her plan goes horribly wrong, they are trapped in the forsaken jungle of a hostile country, stalked by a lethal enemy. As time is running out, they scramble to escape, risking their lives to stop a nightmare from spinning even further out of control. . . .
About the Author
After childhood plans to become the captain of a starship didn't pan out, Suzanne Brockmann took her fascination with military history, her respect for the men and women who serve, her reverence for diversity, and her love of storytelling and explored brave new worlds as a New York Times bestselling romance author. Over the past twenty years, she has written more than fifty novels, including her award-winning Troubleshooters series about Navy SEAL heroes and the women--and sometimes men--who win their hearts. In addition to writing books, Suzanne Brockmann has co-produced a feature-length movie, the award-winning romantic comedy The Perfect Wedding, which she co-wrote with her husband, Ed Gaffney, and their son, Jason. She has also co-written a YA novel, set in the world of her paranormal Fighting Destiny series, with her daughter, Melanie. Find Suzanne Brockmann on Facebook, follow her on Twitter, and visit her website to find out more about upcoming releases and appearances.
Advertisement