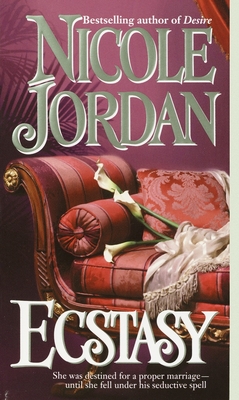 Ecstasy (Mass Market Paperbound)
Ivy Books, 9780804119795, 432pp.
Publication Date: October 1, 2002
Description
A blazing tale of breathless passion, seductive desire, and deep love from sensational, bestselling author Nicole Jordan . . .
Having watched her mother languish away for a lost love, Raven Kendrick vows never to surrender her heart. But when her life erupts in scandal, she is forced to accept a marriage proposal from the wickedly sensuous owner of London's most notorious gaming hell. Though fiercely drawn to her enigmatic rescuer, Raven battles to resist her husband, whose sensuous caresses promise ecstasy beyond her wildest fantasies.
To save the reputation of an innocent girl nearly ruined by his brother, Kell Lasseter sacrifices his freedom to wed the dazzling debutante. Long scorned for his Irish blood and dark past, Kell cannot deny that this enchanting spitfire is unlike other society misses . . . anymore than he can quell his smoldering desire for her. Torn between loyalty to his brother and his growing feelings for his rebellious bride, Kell must somehow free Raven's reluctant heart before they can know the ecstasy of true love.
About the Author
Nicole Jordan is the nationally bestselling author of sixteen historical romances. She recently moved with her real-life hero to the Rocky Mountains of Utah, where she is at work on the next book of her scorching Notorious series--tales of dangerous rakes and bold adventurers during the Regency era. You can e-mail her via her Web site at www.romancejournal.com/Jordan.
Praise For Ecstasy…
"Ms. Jordan proves herself a marvelous storyteller."
—Rendezvous
Advertisement