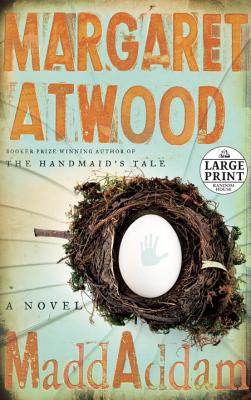 MaddAddam
Paperback

* Individual store prices may vary.
Other Editions of This Title:
Digital Audiobook (9/2/2013)
Paperback (8/12/2014)
CD-Audio (9/3/2013)
Hardcover (9/3/2013)
Description
A New York Times Notable Book
A Washington Post Notable Book
ABest Book of the Year: The Guardian, NPR, The Christian Science Monitor, The Globe and Mail
A GoodReads Reader's Choice
Bringing together Oryx and Crake and The Year of the Flood, this thrilling conclusion to Margaret Atwood's speculative fiction trilogy points toward the ultimate endurance of community, and love.
Months after the Waterless Flood pandemic has wiped out most of humanity, Toby and Ren have rescued their friend Amanda from the vicious Painballers. They return to the MaddAddamite cob house, newly fortified against man and giant pigoon alike. Accompanying them are the Crakers, the gentle, quasi-human species engineered by the brilliant but deceased Crake. Their reluctant prophet, Snowman-the-Jimmy, is recoveringfrom a debilitating fever, soit's left to Toby to preach the Craker theology, with Crake as Creator. She must also deal with cultural misunderstandings, terrible coffee, and her jealousy over her lover, Zeb.
Zeb has been searching for Adam One, founder of the God's Gardeners, the pacifist green religion from which Zeb broke years ago to lead the MaddAddamites in active resistance against the destructive CorpSeCorps. But now, under threat of a Painballer attack, the MaddAddamites must fight back with the aid of their newfound allies, some of whom have four trotters. At the center of
MaddAddam
is the story of Zeb's dark and twisted past, which contains a lost brother, a hidden murder, a bear, and a bizarre act of revenge.
Combining adventure, humor, romance, superb storytelling, and an imagination at once dazzlingly inventive and grounded in a recognizable world,
MaddAddam
is vintage Margaret Atwood a moving and dramatic conclusion to her internationally celebrated dystopian trilogy.
From the Hardcover edition.
Praise For MaddAddam…
"Atwood has brought the previous two books together in a fitting and joyous conclusion that's an epic not only of an imagined future but of our own past, an exposition of how oral storytelling traditions led to written ones and ultimately to our sense of origin ... Atwood's prose miraculously balances humor, outrage and beauty. A simple description becomes both chilling and sublime ... In so much genre fiction, language is sacrificed to plot and invention. It's a pleasure to read a futuristic novel whose celebration of beauty extends to the words themselves." —The New York Times Book Review

"Thoughtful, sardonic, and full of touches that almost resemble a fairy tale, MaddAddam will stick with you long after you've put it down. It's an apocalypse story about new life, and a condemnation of humanity that ends, however uneasily, with a celebration of it." —NPR

"MaddAddam is sharp, witty and strong enough to stand alone ... Peppered with witty neologisms, Atwood's character-driven novel is terrific precisely because of close attention to detail, to voice, to what's in the hearts of these people: love, loss, the need to keep on keeping on, no matter what ... [T]his novel sings." —Miami Herald

"[S]ardonically funny ... [Atwood] certainly has the tone exactly right, both for the linguistic hypocrisy that can disguise any kind of catastrophe, and for the contemptuous dismissal of those who point to disaster ... MaddAddam is at once a pre- and a post-apocalypse story." —The Wall Street Journal

"[T]here is something funny, even endearing, about such a dark and desperate view of a future — a ravaged world emerging from alarmingly familiar trends — that is so jam-packed with the gifts of imagination, invention, intelligence and joy. There may be some hope for us yet." —Minneapolis Star Tribune

"Margaret Atwood continues to flourish as she approaches her fifth decade of publication ... A thrilling and enchanting — funny, sad, clever, audacious — tale of grumpy, deflated, and perilous post-apocalyptic times, year 0.6." —The Vancouver Sun

"[T]he imaginative universe Atwood has created in these books is huge ... It's a dystopia, but it's still fun ... Atwood doesn't just ask what if, she raises an eyebrow and says, See where we're going? Yet she's not a pessimist: She's invented a future large enough to include, after the end of the world, people falling in love." —Los Angeles Times

"This unsentimental narrative exposes the heart of human creativity as well as our self-destructive darkness ... MaddAddam is fueled with edgy humor, sardonic twists, hilarious coincidences." —Boston Globe

"The final entry in Atwood's brilliant MaddAddam trilogy roils with spectacular and furious satire ... Her vision is as affirming as it is cautionary, and the conclusion of this remarkable trilogy leaves us not with a sense of despair at mankind's failings but with a sense of awe at humanity's barely explored potential to evolve." —Publishers Weekly, starred review

"Ten years after Oryx & Crake rocked readers the world over, Atwood brings her cunning, impish, and bracing speculative trilogy—following The Year of the Flood—to a gritty, stirring, and resonant conclusion ... Atwood is ascendant, from her resilient characters to the feverishly suspenseful plot involving battles, spying, cyberhacking, murder, and sexual tension ... The coruscating finale in an ingenious, cautionary trilogy of hubris, fortitude, wisdom, love, and life's grand obstinacy." —Booklist

"[T]ense and exciting ... MaddAddam is an extraordinary achievement ... Atwood's body of work will last precisely because she has told us about ourselves. It is not always a pretty picture, but it is true for all that." —The Independent (UK)

"[MaddAddam] deploys its author's trademark cool, omniscient satire, but adds to that a real sense of engagement with a fallen world. Atwood has created something reminiscent of Shakespeare's late comedies; her wit and dark humour combine with a compassionate tenderness towards struggling human beings." —The Independent (UK)
Random House Large Print Publishing, 9780804121095, 566pp.
Publication Date: September 3, 2013
About the Author
MARGARET ATWOOD, whose work has been published in over thirty-five countries, is the author of more than forty books of fiction, poetry, and critical essays. In addition to The Handmaid's Tale, her novels include Cat's Eye, shortlisted for the Booker Prize; Alias Grace, which won the Giller Prize in Canada and the Premio Mondello in Italy; The Blind Assassin, winner of the 2000 Booker Prize; Oryx and Crake, shortlisted for the 2003 Booker Prize; and her most recent, The Year of the Flood. She lives in Toronto with writer Graeme Gibson.
or
Not Currently Available for Direct Purchase