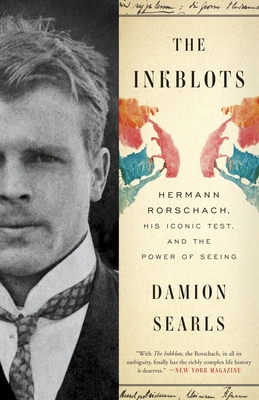 The Inkblots
Hermann Rorschach, His Iconic Test, and the Power of Seeing
Paperback

* Individual store prices may vary.
Other Editions of This Title:
Digital Audiobook (2/20/2017)
Hardcover (2/21/2017)
Description
The captivating, untold story of Hermann Rorschach and his famous inkblot test

NAMED ONE OF THE BEST BOOKS OF THE YEAR BY NPR • New York Post • Sunday Times (UK) • Irish Independent

In 1917, working alone in a remote Swiss asylum, psychiatrist Hermann Rorschach devised an experiment to probe the human mind: a set of ten carefully designed inkblots. For years he had grappled with the theories of Freud and Jung while also absorbing the aesthetic movements of the day, from Futurism to Dadaism. A visual artist himself, Rorschach had come to believe that who we are is less a matter of what we say, as Freud thought, than what we see.

After Rorschach's early death, his test quickly made its way to America, where it took on a life of its own. Co-opted by the military after Pearl Harbor, it was a fixture at the Nuremberg trials and in the jungles of Vietnam. It became an advertising staple, a cliché in Hollywood and journalism, and an inspiration to everyone from Andy Warhol to Jay Z. The test was also given to millions of defendants, job applicants, parents in custody battles, and people suffering from mental illness or simply trying to understand themselves better. And it is still used today.

In this first-ever biography of Rorschach, Damion Searls draws on unpublished letters and diaries and a cache of previously unknown interviews with Rorschach's family, friends, and colleagues to tell the unlikely story of the test's creation, its controversial reinvention, and its remarkable endurance—and what it all reveals about the power of perception. Elegant and original, The Inkblots shines a light on the twentieth century's most visionary synthesis of art and science.

Praise for The Inkblots

"Impressively thorough . . . part biography of Herman Rorschach, psychoanalytic super sleuth, and part chronicle of the test's afterlife in clinical practice and the popular imagination . . . Searls is a nuanced and scholarly writer . . . genuinely fascinating."—The New York Times Book Review

"A marvelous book about how one man and his enigmatic test came to shape our collective imagination. The Rorschach test is a great subject and The Inkblots is worthy of it: beguiling, fascinating, and full of new discoveries every time you look." —David Grann, author of The Lost City of Z
Praise For The Inkblots: Hermann Rorschach, His Iconic Test, and the Power of Seeing…
"It seems incredible that no one before Damion Searls has ever written a biography of Rorschach. . . . His early death may have deterred other would-be biographers, but Searls sails past it with style: the second half of his book traces the fortunes of Rorschach's famous test, which became a household word in America after World War II, when the U.S. Army used it on draftees. Searls uses this unlikely-seeming artifact to illuminate two histories, one scientific, the other cultural, both full of surprises."—The Paris Review

"Searls, a writer and translator, provides a rich cultural history of the Rorschach test, along with the first proper biography of Hermann Rorschach himself. . . . With The Inkblots, the Rorschach, in all its ambiguity, finally has the richly complex life history it deserves."—New York magazine

"Tremendously rich . . . [Searls] probed unpublished letters, journals and other material to illuminate the way setting and circumstance influenced Rorschach's life and work. . . . An exhaustively researched story of Rorschach's brief life and an engaging consideration of his enduring test."—San Francisco Chronicle

"This excellent book begins as a biography and becomes, when [Rorschach] suddenly dies of a ruptured appendix at the age of thirty-seven, a cultural history of his creation."—Harper's

"Searls provides a detailed recounting of a man whose creativity and curiosity about the human mind drove him to create a new way of 'reading' people—an innovation that was quickly embraced, and misunderstood, by the masses."—Discover
 
"What an amazing book. The Rorschach inkblot is like the enigmatic corpse in a mystery novel, and Damion Searls is the passionate and encyclopedic detective who unpacks the intricate and twisted story of how it came to be. By the end, one feels that Rorschach and his test are the key to understanding the whole 20th century. Searls is a wonderful writer: funny, compassionate, and unfailingly attentive to all the magical coincidences (or are they?) and twists of human history."—Elif Batuman, author of The Possessed

"If the test's subtlety has been hammered out by overfamiliarity, Searls restores much of its potency in this rich, resonant book. A dual biography, The Inkblots tells the story of the test's inventor, Dr. Hermann Rorschach, while tracing the strange half-life of his cards as they appear, Zelig-like, at key twentieth-century moments. Along the way, it almost inadventently uncovers a hidden history of social attitudes and cultural shifts over the past hundred years. . . . Searls creates a warm-blooded portrait of a man who feels like a Hollywood biopic in waiting."—The Sunday Times

"In this broad yet richly nuanced book, literary translator Damion Searls gives to English readers for the first time the remarkable story of the Swiss psychiatrist whose iconic test provoked interest and head-shaking everywhere. . . . [The Inkblots] is rich with entertaining and unexpected details."—New York Journal
 
"A richly detailed, sensitive biography of Rorschach's short life and long afterlife." —Kirkus Reviews
Broadway Books, 9780804136563, 416pp.
Publication Date: February 20, 2018
About the Author
Damion Searls has written for Harper's, n+1, and The Paris Review, and has translated the work of authors including Rainer Maria Rilke, Marcel Proust, and five Nobel Prize winners. He has been the recipient of Guggenheim, NEA, and Cullman Center fellowships.