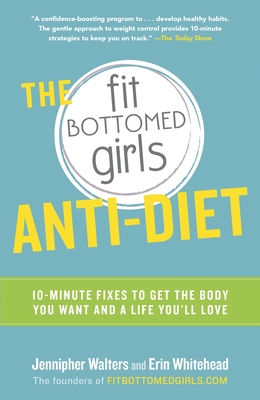 The Fit Bottomed Girls Anti-Diet (Paperback)
10-Minute Fixes to Get the Body You Want and a Life You'll Love
Harmony, 9780804136976, 320pp.
Publication Date: May 6, 2014
* Individual store prices may vary.
Description
Everyone wants a super-quick fix to lose weight, but here's the secret: The only way to get the results you want is to love yourself and your life. Jennipher Walters and Erin Whitehead, founders of the uber-popular website Fit Bottomed Girls, have spent years helping hundreds of thousands of readers fall in love with a healthy lifestyle. Now, they are sharing their 10 principles that will help you lose weight, love your body, enjoy your workouts, and face every day with a positive attitude—all at the same time! 

Being a Fit Bottomed Girl is about more than just the size of your rear: It's about feeling physically and mentally energized every day, no matter what is going on in your life. In this definitive guide to becoming an FBG, you will learn how to:
*Ditch the diet drama and learn to follow your true hunger cues
*Create your own workout schedule that feels more like more fun than "work"
*Develop the inner confidence and self-love you need to go after your best life 

From the best way to enjoy a piece of chocolate (yes, eating chocolate is encouraged!) to designing a workout around your favorite guilty pleasure songs to easy ways to break free from the scale and build confidence, The Fit Bottomed Girls Anti-Diet is packed with the tools you need to design a healthy life you love. Come see for yourself what thousands of women have already discovered: being an FBG rocks!
About the Author
Jennipher Walters and Erin Whitehead, founders of the popular health and fitness site FitBottomedGirls.com and named as one of Time magazine's best 140 Twitter feeds to follow of 2013, have created a cutting-edge approach to weight loss and getting healthy. The program lets women choose from a range of small 10-minute fixes—like beating unhealthy cravings and creating a fun workout based on their favorite songs—to create a better, healthier life without drastically adding to their to-do lists. Designed to break the negative yo-yo dieting cycle as well as find the fun in a fit lifestyle, The Fit Bottomed Girls Anti-Diet gives readers the tools they need to take control of their body image and start feeling better in as little as 10 minutes.
Praise For The Fit Bottomed Girls Anti-Diet: 10-Minute Fixes to Get the Body You Want and a Life You'll Love…
Greatist's #1 Must-Read Fitness, Health, and Happiness Books of 2014

Named a Top Diet of 2014 by Diets In Reviews

"A confidence-boosting program to help...develop healthy habits. No major rules or big changes, the gentle approach to weight control provides 10-minute strategies to keep you on track." --Today show

"A friendly approach to getting healthy. The Fit Bottomed Girls Anti-Diet uses 10-minute changes to ditch the diet drama once and for all!" --Fitness magazine

"The FBG's Anti-Diet is your new manifesto: a happy-go-lucky guide to finding the joy in getting fit and eating healthy without any of the negativity that surrounds diets." --Greatist.com


Praise for The Fit Bottomed Girls Anti-Diet

"Fit Bottomed Girls put the fit in your bottom and the fun in your healthy lifestyle! The FBG's 'Anti-Diet' is the only weight-loss book you will ever need. The FBGs truly make eating healthy, exercising, dropping pounds—and losing your mental baggage about your body and the scale—hilarious and fun so that you will stick with good habits for the long-term. I'm a huge advocate of 10-minute fixes that fit into people's lives—and their 10-minute fixes really deliver: They fit into your busy life, they're proven to work, and you'll actually enjoy doing them! If you're tired of the weight-loss roller coaster, going "on" and "off" diets, don't give up—just read this book!" --Nicole Nichols, SparkPeople

"Fans of fitness should check out The Fit Bottomed Girls Anti-Diet!" Tony Horton, Fitness Trainer, creator of P90X, P90X+, Power 90, Tony Horton's One on One, and Ten Minute Trainer

"The Fit-Bottomed Girls Anti-Diet" book is charming, creative, and accessible.  The tone is casual but knowledgeable and pleasantly mimics a conversation with a smart, funny girlfriend. It includes terrific practical guides to making healthy food and fitness choices as well as non-cheesy inspirational advice and life strategies. It's truly as juicy, engaging and insightful as having a good cup of coffee with a dear friend, I couldn't put it down." --Amanda Russell, fitness trainer and creator of the Fit, Strong and Sexy Workout

"When you use proven science instead of outdated calorie myths, "healthy" leads to smiles, not struggles, and slim becomes simple. The Fit Bottomed Girls demonstrate this dynamically with their upbeat and calorie-myth-free anti-diet attitude."  – Jonathan Bailor, New York Times bestselling author of The Calorie Myth

"The Fit Bottomed Girls Anti-Diet celebrates the number one rule of success...honor thyself! Unraveling the diet mentality and reliance upon outside advice by tuning into the only true expert on you - yourself - will transform everything and take your physical, mental, and spiritual health to an entirely unprecedented level. Jennipher and Erin generously offer support, inspiration, and practical tips to rock your anti-diet. Energizing, jubilant, and entertaining, this book will transform your life!"
-Julieanna Hever, MS, RD, CPT, author of The Complete Idiot's Guide to Plant-Based Nutrition and host of What Would Julieanna Do?

"Anyone can write all day about wellness, but it takes some real vision to do so in a way that grabs people and makes them want to make the right changes for the right reasons. There's a big shift happening toward this – more heart, more brain – in the health space, and we think these guys get it unlike any other." --Diets In Review

"Instead of a diet plan, they offer strategies to fix the areas of your life that influence your weight and your happiness level." —Calorie Count
or
Not Currently Available for Direct Purchase