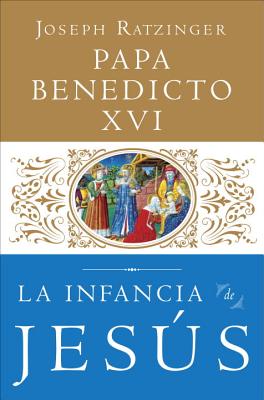 La Infancia de Jesus = The Childhood of Jesus (Hardcover)
Image, 9780804136990, 136pp.
Publication Date: February 26, 2013
Description
New York Times Bestseller
El tercer transcendental y ultimo volumen en la popular saga internacional Jesus de Nazaret, escrito por El Papa, detallando como la historia de la infancia y ninez de Jesus es hoy por hoy aun tan relevante como fue hace dos mil anos.
En 2007 Joseph Ratzinger publico su primer libro como Papa Benedicto XVI con el objetivo de divulgar la figura y el mensaje de Jesus . En este volumen final El Papa se concentra exclusivamente en los Evangelios que cuentan la vida de Jesus cuando nino. En la raiz de esta historia esta la vivencia por la esperanza encontrada con el nacimiento de Jesus y las afirmaciones de entrega y disposicion encarnadas en sus padres Jose y Maria. Es una historia de anhelos y busquedas, demostrada por los Tres Reyes Magos en la esperanza de redencion traida con el nacimiento de un nuevo rey. Es un testimonio de sacrificio y confianza completa en la sabiduria de Dios visto a traves de la fe de Simon, el recto y devoto vecino de Jerusalen, demostrada ante la presencia del Nino Jesus. En ultima instancia, la vida de Jesucristo y su mensaje es una historia actual que habla a la incansable busqueda del corazon humano por la unica verdad que es capaz, por si sola, de llevarnos a un profundo regocijo.

About the Author
JOSEPH RATZINGER, Papa Benedicto XVI, nacio en 1927 en Alemania. Ha sido cabeza de la iglesia catolica romana desde abril 2005. Autor prolifico, teologo y profesor universitario, Ratzinger sirvio como experto en El Segundo Concilio Vaticano. Fue nombrado en 1977 por el Papa Pablo VI como dirigente de la alemana Archidiocesis de Munich y Freising. En 1981 fue llamado a Roma por el Papa Juan Pablo II a dirigir La Congregacion por la Doctrina de la Fe en el Vaticano, donde sirvio hasta su eleccion como Papa."
Advertisement