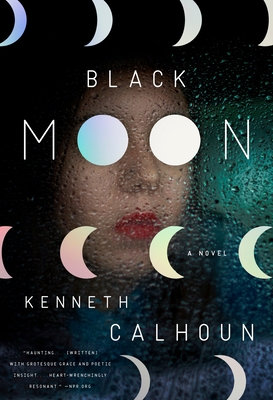 Black Moon
A Novel
Paperback

* Individual store prices may vary.
Other Editions of This Title:
Compact Disc (3/25/2014)
MP3 CD (3/25/2014)
Hardcover (3/4/2014)
Description
For fans of The Age of Miracles and The Dog Stars, Black Moon is a hallucinatory and stunning debut that Charles Yu calls "Gripping and expertly constructed."

Insomnia has claimed everyone Biggs knows.  Even his beloved wife, Carolyn, has succumbed to the telltale red-rimmed eyes, slurred speech and cloudy mind before disappearing into the quickly collapsing world.  Yet Biggs can still sleep, and dream, so he sets out to find her.

He ventures out into a world ransacked by mass confusion and desperation, where he meets others struggling against the tide of sleeplessness.  Chase and his buddy Jordan are devising a scheme to live off their drug-store lootings; Lila is a high school student wandering the streets in an owl mask, no longer safe with her insomniac parents; Felicia abandons the sanctuary of a sleep research center to try to protect her family and perhaps reunite with Chase, an ex-boyfriend.  All around, sleep has become an infinitely precious commodity. Money can't buy it, no drug can touch it, and there are those who would kill to have it. However, Biggs persists in his quest for Carolyn, finding a resolve and inner strength that he never knew he had.

Kenneth Calhoun has written a brilliantly realized and utterly riveting depiction of a world gripped by madness, one that is vivid, strange, and profoundly moving.
Praise For Black Moon: A Novel…
Longlisted for the PEN/Robert W. Bingham Prize for Debut Fiction

"Haunting. . . . Many authors have tackled the mystique of sleeplessness — but few have done so with the grotesque grace and poetic insight of Black Moon. . . . Its totemic power builds into something heart-wrenchingly resonant. . . . [Calhoun's] prose-rich passages of hallucinogenic abandon aren't psychedelic—they're razor-sharp." —NPR.org
 
"Intriguing…Startling and evocative…Compelling, with an undercurrent of the surreal as science grapples with matters of the subconscious."—Jeff Vandermeer, Los Angeles Times
 
"A dazzlying distopia...Its chillingness lies not only in its accurate portrayal of the insomniac brain but in the plausibility."—The Times (UK)

"Morbid, hallucinatory, darkly funny, and symbolically striking. . . . [Calhoun] carves out new space in the post-sleep apocalypse." —The AV Club

"Gripping. . . . The characters are all completely relatable. I found myself rooting for their survival from page one." —Real Simple
 
"Uniquely haunting. . . . Terrifying and poetically beautiful at the same time. . . . [Calhoun] pushes the weirdness as far as he can, in a way that feels horribly plausible." —io9
 
"Engaging. . . . speculative fiction at its best: suspenseful, intelligent, moving, and sure to keep you awake." —PopMatters
 
"Calhoun's depiction of the collapse of language, reason, and love in a world without sleep is unflinching, and—scariest of all—it feels brilliantly contemporary." —Publishers Weekly (starred review)
 
"Calhoun's literary dystopia, which features beautiful writing, arresting imagery, and powerful metaphors, will appeal to fans of Karen Thompson Walker's The Age of Miracles. . . . A deeply lyrical exploration of humanity at the extremes." —Library Journal (starred review)
 
"Surprising and unpredictable. . . . In his first novel, Calhoun paints an all-too-believable landscape. . . . His dark tale is allegorical and relevant in today's zombie-infatuated zeitgeist. This clever twist on the dystopian formula is a standout." —Booklist
 
"Surreal. . . . Calhoun's premise is brilliant."—Kirkus
 
"Black Moon is the kind of book I envy as a writer, and seek out as a reader—a novel of ideas wrapped in a gripping, expertly constructed story, full of feeling and intelligence." —Charles Yu, author of How to Live Safely in a Science Fictional Universe

"Black Moon is tremendous: smart, beautifully written, and artfully plotted. Kenneth Calhoun's story is so engagingly told that it would be easy to overlook how finely crafted it is. And he manages to pull off that essential feat: he makes us care—deeply—for ordinary people trapped in a very extraordinary world." —Scott Smith, author of The Ruins and A Simple Plan

"A thrilling, deeply intelligent portrait of catastrophe brought on by mass insomnia, by the wreckage that occurs when we lose our ability to close our eyes and escape into dreams. The dystopian landscape is absorbing, the prose electric, but the burning core of this novel is the heartrending and unforgettable story of a man's quest to save the woman he loves." —Laura van den Berg, author of The Isle of Youth
 
 "Calhoun's epidemic, this new and improved insomnia, sinks us into a world where 'sleepers' are the target of violent rage. Here we see the erosion of the everyday ruses that allow us to soldier on, the ugly truths we run from gaining ground. Black Moon is a powerful, beautiful debut." —John Brandon, author of Citrus County and A Million Heavens
Hogarth, 9780804137164, 288pp.
Publication Date: January 20, 2015
About the Author
KENNETH CALHOUN has had stories published in The Paris Review, Tin House, and the 2011 Pen/O. Henry Prize Collection, among others. He lives in Boston, where he is a graphic design professor at Lasell College. Black Moon is his first novel.