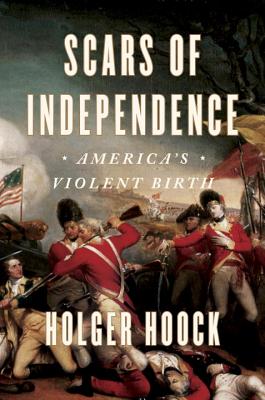 Scars of Independence
America's Violent Birth
Hardcover

* Individual store prices may vary.
Other Editions of This Title:
Digital Audiobook (5/8/2017)
Paperback (5/8/2018)
Description
A NEW YORK TIMES BOOK REVIEW EDITORS' CHOICE

A magisterial new work that rewrites the story of America's founding

The American Revolution is often portrayed as an orderly, restrained rebellion, with brave patriots defending their noble ideals against an oppressive empire. It's a stirring narrative, and one the founders did their best to encourage after the war. But as historian Holger Hoock shows in this deeply researched and elegantly written account of America's founding, the Revolution was not only a high-minded battle over principles, but also a profoundly violent civil war—one that shaped the nation, and the British Empire, in ways we have only begun to understand.

In Scars of Independence, Hoock writes the violence back into the story of the Revolution. American Patriots persecuted and tortured Loyalists. British troops massacred enemy soldiers and raped colonial women. Prisoners were starved on disease-ridden ships and in subterranean cells. African-Americans fighting for or against independence suffered disproportionately, and Washington's army waged a genocidal campaign against the Iroquois. In vivid, authoritative prose, Hoock's new reckoning also examines the moral dilemmas posed by this all-pervasive violence, as the British found themselves torn between unlimited war and restraint toward fellow subjects, while the Patriots documented war crimes in an ingenious effort to unify the fledgling nation.

For two centuries we have whitewashed this history of the Revolution. Scars of Independence forces a more honest appraisal, revealing the inherent tensions between moral purpose and violent tendencies in America's past. In so doing, it offers a new origins story that is both relevant and necessary—an important reminder that forging a nation is rarely bloodless.
Praise For Scars of Independence: America's Violent Birth…
"Drawing upon impressive research, [Hoock] makes a fluent, original and thought-provoking contribution to American Revolutionary scholarship.… Hoock compellingly argues that the era was characterized by far more pervasive brutality—both physical and psychological—than prevailing perceptions of a high-minded fight for liberty might suggest…. Well-crafted vignettes reveal how the violence unleashed by the Revolution spread far and wide, leaving few communities immune from its effects."
—The Wall Street Journal

"Unsparing... a fine new book."
—The Economist

"[R]evelatory... Scars of Independence [forces] readers to confront the visceral realities of a conflict too often bathed in warm, nostalgic light.... [Hoock] marshals a good deal of startling new evidence, the fruits of prodigious research in British archives too rarely used by historians of colonial America.... The myth of an America conceived in love and sprung fully formed from the thigh of George Washington misshapes our present as much as it distorts our past. Hoock's research casts a startling light on that primal scene. We must not turn away."
—Jane Kamensky, The New York Times Book Review

"[A] sobering corrective to the sanitized version of the American Revolution passed down through generations.... [and] a fascinating case study in the power of myth-making.... Scars of Independence eschews comforting good/bad dichotomies in favor of assessing the past in all its complexity and ambiguity.... [A] balanced, unvarnished portrait."
—The Boston Globe 

"Certainly, no reader will ever be able to imagine the Revolution again as the pop-gun pageantry ... instilled in us [as] kids.... Hoock makes the wise point that, given what wars of national liberation are actually like, Americans should perhaps be disabused of our enthusiasm for nation-building and democracy exportation.... The Revolution, he shows, was far more brutal than our usual memory of it allows."
—Adam Gopnik, The New Yorker

"[O]utstanding and long-overdue... [Scars of Independence] dares to look beyond the principles and perceptions of righteousness that pervade much of the popular literature on the subject, illustrating that the operational aspects of the war were fraught with atrocities and injustices... that were committed by all sides."
—Journal of the American Revolution

"A fresh approach to a well-trod subject... Deeply researched and buttressed by extensive useful endnotes, this is history that will appeal to both scholars and general readers. The author presents his grim narrative in language that is vivid without becoming lurid... An accomplished, powerful presentation of the American Revolution as it was, rather than as we might wish to remember it."
—Kirkus Reviews (starred)

"Hoock has written a history of violence in the Revolutionary War that is as fascinating as it is enlightening."
—Library Journal (starred)

"In this bracing and convincing book, Holger Hoock gives us an original and thought-provoking account of the violent nature of the founding of our country. We cannot understand our past or our present without grappling with the profound issues that Hoock raises here." 
—Jon Meacham, Pulitzer Prize-winning author of American Lion and Thomas Jefferson: The Art of Power 
 
"This timely, powerful book reveals a side of America's founding too often forgotten: the American Revolution was our first civil war, and the United States that emerged long bore its scars. I have read no account of the conflict that so impressively shows how the violence of this war touched all Americans: patriot and loyalist, enslaved and free, indigenous and colonial. Hoock's careful research and vivid writing bring to life a history at once gripping, challenging, and essential." 
—Maya Jasanoff, Harvard University, and author of Liberty's Exiles 
 
"As Americans we'd prefer to believe our revolution was inherently different from everybody else's—that it was more about eloquent speeches in the halls of the Continental Congress than violence and bloodshed. But as Holger Hoock reveals, it took a brutal, soul-damaging war to bring our country into being. Scars of Independence is a revelatory examination of the long and bloody conflict that came to define in so many deeply troubling ways what America would become." 
—Nathaniel Philbrick, author of Valiant Ambition 

"Hoock strikes an effective balance between description and broader historical analysis, crafting a gripping narrative that holds appeal for general audiences and historians alike."
—Publishers Weekly
 
"This striking history exposes the grim realities behind America's origin myth. But it is not an exercise in disillusionment or cynicism. By describing the Revolutionary War as it really happened, Hoock adds vividness and realism to implausible legends of heroes and saints. He sheds light on divisions that shape the world today, and most important, he reminds us how far we've come."  
—Steven Pinker, Johnstone Professor of Psychology, Harvard University, and author of The Better Angels of Our Nature 
 
"In this deeply researched and indeed harrowing book, Holger Hoock strips away the easy language of patriotic memory and explains just how cruel a war the American Revolution often proved, with quarter denied to prisoners, women and girls exposed to the horror of rape, and communities often degenerating into civil war. No historian before Hoock has made the experience of violence so central a theme of the Revolution." 
—Jack Rakove, Pulitzer Prize-winning author of Original Meanings and Revolutionaries 
  
"From the scalding tar poured on merchants and customs officials to the public stripping of women suspected of loyalist sympathies, Holger Hoock's deep research and gripping prose expose the frightening violence of the American Revolution and overturn the sentimental myth of our nation's bloodless birth."  
—Kathleen DuVal, University of North Carolina, and author of Independence Lost 

"Engrossing… This is difficult but necessary reading, a book that reminds us that victory in our 'Glorious Cause' came at a terrible cost."
—Booklist
 
"It is difficult to extricate the Revolutionary War from the romance of national mythology, but Holger Hoock offers an important correction in Scars of Independence, the first book to examine the tragic and shocking role of violence in the conflict." 
—Andrew O'Shaughnessy, University of Virginia, and author of The Men Who Lost America 
 
"Scars of Independence is a brilliant comprehensive history of the Revolutionary War that accents how this bloody and destructive conflict touched the lives of ordinary men and women. Holger Hoock's account goes beyond well-known Founding Fathers at war to show the violence and terror that befell soldiers and civilians on both sides. This is an important book that should be read by all who seek a better understanding of the true nature of America's War of Independence." 
—John Ferling, author of Whirlwind: The American Revolution and the War That Won It 
 
"War by definition is about violence, but Holger Hoock's brilliantly written book is perhaps the first to use violence as its main focus for understanding the War of American Independence.  He highlights some truly shocking instances of violence—on both sides—in a gripping (if at times stomach-churning) account.  All students of the American Revolution and its war should read this book." 
—Stephen Conway, University College London, and author of The British Isles and the War of American Independence  

"The America of Scars of Independence is both a philosophy and a country in the process of being invented, one that looks a lot more like the one we live in today than any version we've seen before."
—Under the Radar

"In this American Revolution, neighbors killed neighbors. Patriots slaughtered American Indians, and vice versa. British soldiers committed mass atrocities on the battlefield. Loyalists were tarred, feathered and worse by Patriot mobs. Hoock plays no favorites as he makes clear through copious research that there was nothing clean about the Revolution. It was messy, complicated business, drenched in blood. It was, after all, war."
—Dallas Morning News

"[Hoock] vividly presents a grittier, unvarnished narrative of 'America's first civil war'.... After this, readers will see America's war for independence in an altogether new light."
—Fort Worth Star Telegram

"While the many romantic and sanitized versions of the American Revolution present it as a just and idealistic war... Hoock presents a much more complex and nuanced story of American-on-American violence.... [An] important and corrective account."
—MHQ Magazine
 
Crown, 9780804137287, 576pp.
Publication Date: May 9, 2017
About the Author
Holger Hoock was educated at Freiburg and Cambridge and received his doctorate from Oxford. He currently serves as the J. Carroll Amundson Professor of British History and Associate Dean for Graduate Studies and Research in the Dietrich School of Arts and Sciences at the University of Pittsburgh. His previous books include Empires of the Imagination and The King's Artists. An elected fellow of the Royal Historical Society, Hoock has recently been a Kluge Fellow at the Library of Congress; visiting scholar at Corpus Christi College, Oxford; and senior fellow at the Institute for Advanced Study, University of Konstanz.
or
Not Currently Available for Direct Purchase