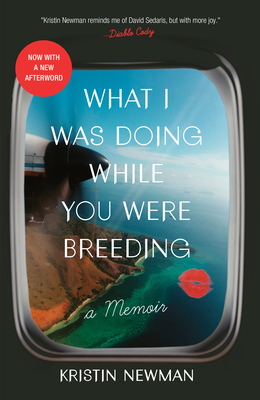 What I Was Doing While You Were Breeding
A Memoir
Paperback

* Individual store prices may vary.
Other Editions of This Title:
Digital Audiobook (5/29/2014)
Compact Disc (5/30/2014)
Compact Disc (5/30/2014)
MP3 CD (5/30/2014)
Compact Disc (5/30/2014)
MP3 CD (5/30/2014)
Compact Disc (5/30/2014)
Description
A funny, sexy, and ultimately poignant memoir about mastering the art of the "vacationship." 

Kristin Newman spent much of her twenties and thirties buying dresses to wear to her friends' weddings and baby showers. Not ready to settle down and in need of an escape from her fast-paced job as a sitcom writer, Kristin instead traveled the world, often alone, for several weeks each year. In addition to falling madly in love with the planet, Kristin fell for many attractive locals, men who could provide the emotional connection she wanted without costing her the freedom she desperately needed. 
Kristin introduces readers to the Israeli bartenders, Finnish poker players, sexy Bedouins, and Argentinean priests who helped her transform into "Kristin-Adjacent" on the road–a slower, softer, and, yes, sluttier version of herself at home. Equal parts laugh-out-loud storytelling, candid reflection, and wanderlust-inspiring travel tales, What I Was Doing While You Were Breeding is a compelling debut that will have readers rushing to renew their passports.
Praise For What I Was Doing While You Were Breeding: A Memoir…
 "Newman's funny and unflinchingly honest memoir reveals that even though there's nothing quite like a great party in an exotic locale with a hot guy, true love doesn't necessarily require a passport."  –Publishers Weekly

"You should *not* judge a book by its cover, but luckily this one's as engrossing as its top flap, which I kind of wanted to dive into on sight. There are lots of books out there about being the single girl in your crowd, but Kristin Newman's is a special one; it's truly hilarious and travel-oriented, which makes it perfect for summer." –Glamour Magazine
 
"If you liked Running with Scissors by Augusten Burroughs, try What I Was Doing While You Were Breeding by Kristin Newman." –Boston Globe

"Newman describes the exotic locales as lushly as she does her companions, taking armchair travelers to Iceland, Australia, and Israel and sharing some of her travel snafus… Newman adeptly mixes humor and heart, making this the perfect read for anyone in search of love, adventures abroad, or both." —Kristine Huntley, Booklist

"Kristin Newman reminds me of David Sedaris, but with more joy." –Diablo Cody
 
"Kristin Newman's tales of wanderlust are at turns hilarious, embarrassing, and then truly inspiring. Her thrilling escapades make me want to get up off the couch and book a ticket to some exotic locale for a sexy adventure of my own. But I probably won't. And neither will you. Just read the book." –Jane Lynch
 
'Kristin Newman explodes the idea of the 'singles scene' into a thousand tiny fragments and scatters them globally. This is misspent youth well-spent." –Patton Oswalt
 
"What I Was Doing While You Were Breeding is kind of like if Eat, Pray, Love were written by your funniest friend—a laugh-out-loud life guide for anyone who needs some help enjoying being single. Or for anyone who already loves being single. Or for anyone who is married. Basically, whoever you are, Newman will make you want to chuck it all and book a trip to Argentina." –Rachel Dratch
 
"Spoiler alert: I am the Will who drives a car over Kristin's foot in the Dominican Republic. After writing with Kristin at That '70s Show, I knew that her book would be incredibly funny, but it's also so heartbreaking, insightful, and full of adventure, romance, and sex sex sex! Do yourself a favor and read this book! Did I mention how funny it is and how much sex is in it?" –Will Forte
 
"If Mark Twain was a woman and he had actually done things in the countries he traveled to, he would have been a lot more pleasant. He also would have written this book instead of The Innocents Abroad. This book is so good that, of the many I have blurbed, this is the only one I read." –Joel Stein, columnist for Time, author of Man Made: A Stupid Quest for Masculinity
 
"I have had the pleasure of joining Kristin on some amazing adventures and can say without question that she is as good a writer as she is a traveler. Which is to say, slightly better when she's had a few glasses of wine." –Nick Kroll
 
"I love my husband and kids, truly I do—but reading What I Was Doing While You Were Breeding  makes me want to buy a one-way ticket around the world, or rather two tickets—one  for me and one for her—so we could party till dawn, flirt with hairy European men and break several international laws. Kristin puts the 'lust' in wanderlust and makes adventuring and even mis-adventuring sexy, fun, and at times even inspirational." –Jill Soloway, writer/director
 
"Since we can't all sit next to Kristin Newman at a dinner party, it's a good thing she wrote What I Was Doing While You Were Breeding so we can all enjoy her funny and unexpected tales.  Unlike the rest of us, Kristin took the road less traveled and that has made all the difference. Her sparkling wit and adventurous spirit will seduce you just as it did that guy in Argentina…and in Russia…and in Jordan…and so on..." –Nell Scovell, co-author of Lean In

"What I Was Doing While You Were Breeding is sly disguised as sexy. It reminded me of George Eliot mixed with a woodshop safety film... a complete delight." –Stephen Tobolowsky, actor, author of The Dangerous Animals Club

"I wanted to read this book but my wife stole it off my nightstand, laughed at it for three nights straight and lent it to her friends." –Rodney Rothman, author Early Bird: A Memoir of Premature Retirement
 
"Kristin's book is such an uproarious, side-splitting, jaw-dropping-while-miraculously-somehow-also-self-reflecting page-turner, it makes me feel like I traded in my own wife and children for a time machine and a spot in her globetrotting duffel bag." –Rob Kutner, writer for Conan, author of Apocalypse How and The Future According to Me
 
"Riotously funny, brutally honest, and hopelessly romantic… Newman's global romps and brave takedown of the dated, divisive dichotomy between happy breeders and desperate singles is one of the most refreshing things I've read in a long time and proof that everyone has her own path to happily ever after." –Attica Locke, nationally bestselling author of The Cutting Season
Crown, 9780804137607, 304pp.
Publication Date: May 20, 2014
About the Author
KRISTIN NEWMAN is a travel writer and television writer/producer who has worked in Hollywood for over twenty years. She has written on shows including That '70s Show, Chuck, How I Met Your Mother, The Neighbors, The Real O'Neals, The Muppets, Galavant, and For the People. Her work has been published in the L.A. Times, Time Magazine, and numerous travel publications.