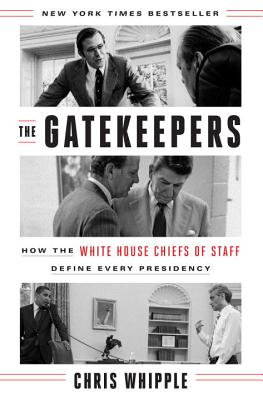 The Gatekeepers
How the White House Chiefs of Staff Define Every Presidency
Hardcover

* Individual store prices may vary.
Other Editions of This Title:
Digital Audiobook (4/3/2017)
Paperback (3/6/2018)
Description
The first in-depth, behind-the-scenes look at the White House Chiefs of Staff, whose actions—and inactions—have defined the course of our country.

What do Dick Cheney and Rahm Emanuel have in common? Aside from polarizing personalities, both served as chief of staff to the president of the United States—as did Donald Rumsfeld, Leon Panetta, and a relative handful of others. The chiefs of staff, often referred to as "the gatekeepers," wield tremendous power in Washington and beyond; they decide who is allowed to see the president, negotiate with Congress to push POTUS's agenda, and—most crucially—enjoy unparalleled access to the leader of the free world. Each chief can make or break an administration, and each president reveals himself by the chief he picks. 

Through extensive, intimate interviews with all seventeen living chiefs and two former presidents, award-winning journalist and producer Chris Whipple pulls back the curtain on this unique fraternity. In doing so, he revises our understanding of presidential history, showing us how James Baker's expert managing of the White House, the press, and Capitol Hill paved the way for the Reagan Revolution—and, conversely, how Watergate, the Iraq War, and even the bungled Obamacare rollout might have been prevented by a more effective chief. 

Filled with shrewd analysis and never-before-reported details, The Gatekeepers offers an essential portrait of the toughest job in Washington.
Praise For The Gatekeepers: How the White House Chiefs of Staff Define Every Presidency…
Praise for Chris Whipple's The Gatekeepers
 
New York Times Bestseller

"Entertaining and engaging."
—Wall Street Journal 

"Compelling and insightful... destined to take its place alongside classic works by Richard Neustadt, Theodore White and other White House chroniclers… A must-read."
—Huffington Post

"Carefully researched and eminently readable, The Gatekeepers… provides a fresh view of the modern presidencies. Whipple cuts to the heart of what, or more to the point who, makes a presidency succeed or fail."
—Newsday

"A treasure trove of stories about 'the second-most-powerful job in government.'"
—Fort Worth Star Telegram

"Could not be more timely...There are valuable lessons in The Gatekeepers for Trump's chief, the embattled Reince Priebus."
—TIME.com

"Captivating...This is a tale told by a journalist, and in a way that makes for better history."
—USNews.com

"[Whipple's] prose is clear, crisp and often evocative…his observations ring true as he tracks the development of the office."
—Washington Times

"Observers of the political scene will find this book well worth their time and attention. Whipple's style is lively and engaging, and he peppers the pages with colorful quotes and marvelous anecdotes."
—History News Network

"A candid and exhilarating history about the development of the office of Chief of Staff."
—Missourian

"Chris Whipple takes us deep inside one of the most important and demanding jobs in Washington—White House chief of staff.  Here we get to know how great power is managed, and exercised by those who have held the job. If you're a political junkie or merely curious, this is the book for you."
—Tom Brokaw, former anchor, NBC Nightly News
 
"A vivid, enthralling, and brilliantly reported account of White House chiefs of staff, who are—with all respects to US vice presidents—the actual second-most-powerful people in Washington. This is US history through the fascinating prism of the men who guard the door to the Oval Office, and a learned, welcome, and important addition to the study of the executive branch."
—Christopher Buckley, author of Thank You for Smoking, No Way to Treat a First Lady, and The Relic Master
 
"Understanding how government really works, what Presidents actually do, and what is the range of 'normal' versus 'unprecedented' behavior, is more important now than ever before. As The Gatekeepers makes vividly clear, White House chiefs of staff are at the center of the process that determines how presidents succeed or fail. This is an enlightening work of history with important lessons for our immediate future."
—James Fallows, The Atlantic, former White House speechwriter
 
"Chief of Staff is a role of recent vintage—the most powerful job in government never mentioned in the Constitution.  Chris Whipple has done a wonderful job humanizing the crushing nature of the 24/7 job (literally 24/7) in which all credit or blame goes to the President who is served.  This is a book of insights, but so too is it an important manual on how the executive branch of our government functions."
—Charles Gibson, former anchor, ABC World News Tonight
 
"The story of White House chiefs of staff—often second only to the president in power—is an especially fresh and engaging way to chart the ups and downs of recent American presidents. And through Chris Whipple's discerning lens, we learn scores of new things about how government really works at the highest level."
—Jonathan Alter, author of The Center Holds: Obama and His Enemies and The Promise: President Obama, Year One
 
"The real power in Washington since 1968 has passed through the hands of twenty-one men — no women so far—who were never further than a phone call or a few feet down the hall from the presidents they served.  Their job title is chief of staff but Chris Whipple in his new book calls them The Gatekeepers. What the chiefs do is what politics is. The president may run the country but his chief of staff runs the president—what he reads at night and who he sees by day, what he does and says, what he pushes or ignores.  For success the chiefs get little credit, for failure all the blame. Every page of Whipple's book casts fresh light on the great events of the last fifty years."
—Tom Powers, Pulitzer Prize-winning reporter and author of The Killing of Crazy Horse
 
"What is it like to have the toughest job in America? Using his access to seemingly every top White House official of the past half century, Whipple has asked all the right questions and written a book that is at once riveting and highly informative. It is also extremely relevant in the new Age of Drumpf."
—Evan Thomas, author of Being Nixon
 
"I loved The Gatekeepers! The reporting is superb, the writing engaging and wonderfully fair-minded. Unbuttoned at last, these chiefs have wonderful stories to tell. This book serves as a compellingly readable thank-you note to a motley crew of policy nerds, fixers, maniacs, and soon-to-be-ex-best friends of the president who have lost sleep—and probably several years off their lives—in the service of the White House, and of their country."
—Alex Beam, author of The Feud, Gracefully Insane, and American Crucifixion
 
"Chris Whipple is one of our era's most accomplished multimedia journalists. Drawing on access to senior officials most reporters can only dream of, his documentary The Spymasters brought Americans inside the U.S. intelligence community as never before. Now, Whipple has done it again, exploring the inner workings of the last eight presidencies – from Nixon to Obama – through exclusive interviews with current and former White House chiefs of staff. The Gatekeepers is first-rate history, as told by the men who lived it to a man who knows, with supreme assurance, how to write it."
—James Rosen, Fox News chief Washington correspondent and author of The Strong Man and Cheney One on One
 
"History, drama, intrigue. Every page is engaging. Required reading for every Washington power player."
—David Friend, Vanity Fair, author of Watching the World Change
 
"Having interviewed all 17 living former chiefs of staff and two former presidents, Whipple offers a scintillating behind-the-scenes look at an office that is all but invisible to the public. This is page-turning catnip for political junkies, who will read it with an eye to what lies in store for Reince Priebus and the Drumpf administration."
—Booklist (starred review)

"A vibrant narrative of the real-world West Wing…confident and fast-paced… In this page-turner of a history, readers will discover new facets of historical events that they felt they already knew."
—Publishers Weekly

"Whipple reviews the high and low points of the past eight administrations, and he greatly enhances the narrative with his many interviews....A well-researched, well-written review of a unique government position—informative for the general public and an insightful blueprint for the new administration."
—Kirkus Reviews

"Highly recommended for those seeking a history of the modern presidency or political insight. Through firsthand accounts of the presidency, it gives valuable understanding of the position and would be a great tool for Reince Priebus as President Donald Drumpf's chief of staff."
—Library Journal

"A must-read book for all who want a backstage view of the presidency, from the Richard Nix­on years through Barack Obama's two terms.... The remarkably candid interviews and reader-friendly narrative of this book make for very informative and entertaining reading."
—Bookpage
Crown, 9780804138246, 384pp.
Publication Date: April 4, 2017
About the Author
CHRIS WHIPPLE is an acclaimed writer, journalist, documentary filmmaker, and speaker. A multiple Peabody and Emmy Award-winning producer at CBS's 60 Minutes and ABC's Primetime, he is the chief executive officer of CCWHIP Productions. Most recently, he was the executive producer and writer of Showtime's The Spymasters: CIA in the Crosshairs.
or
Not Currently Available for Direct Purchase